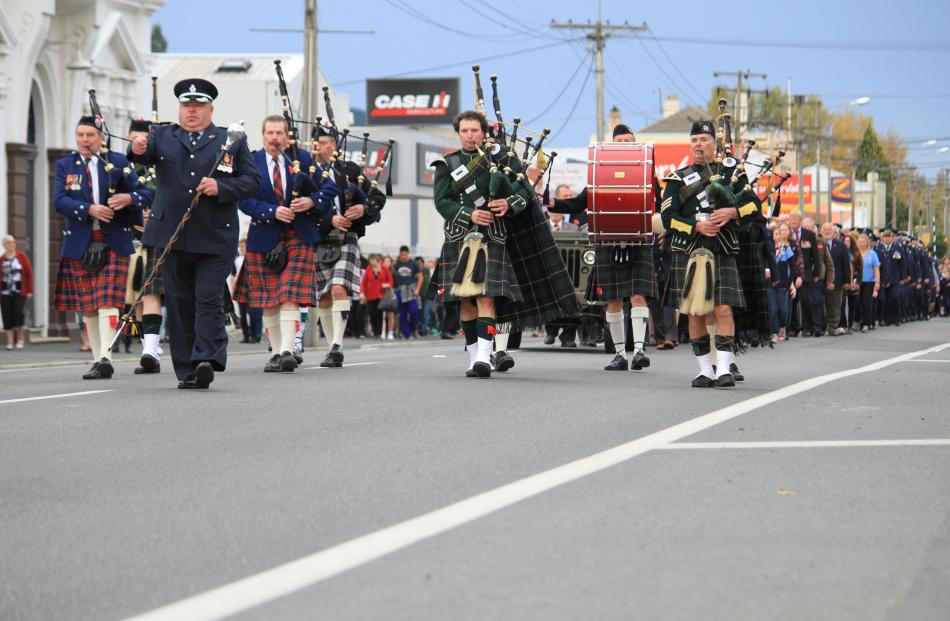 Hundreds packed streets, cemeteries, parks and halls across South Otago on Saturday to honour the day that forged New Zealand's national identity.
The reflective crowd that packed the Kaitangata Memorial Hall stood in silence as the names of the 44 township residents
who died in World War 1 were read out for the first time during a service, service speaker Alex McLaughlin said.
''When it got harder, we didn't give up,'' he said.
''There was some attribute that's in us that was released on that day.
''There was an awakening, almost, of our national identity. They were part of us, and we're never going to forget that.''
Lovells Flat Church Memorial had a capacity, if smaller, crowd of about 120 and the Benhar Cenotaph ceremony drew 50.
There were 50 at the Taieri Mouth Beach Cemetery Gate, too.
The Fairfax Cemetery dawn service drew 80 people.
A crowd of 300 honoured the memories and the family histories of Clinton's fallen soldiers at the town's community centre.
Three hundred honoured the dead at the Owaka Memorial Community Centre and an outdoor, family-oriented service at the Tuapeka Mouth Memorial Gates drew 200.
Crowds swelled at Lawrence, where the services in the Simpson Park Gymnasium and then the Peace Garden drew up to 400.
About 900 - the largest crowd in a generation - reflected on the past century at Balclutha.
And Paige Gardner, of Milton, stirred the crowd of over 500 in Milton with her rendition of the New Zealand anthem.
After wreaths were laid at the Milton cenotaph, the 2/4 Battalion RNZIR firing party punctuated the morning's silence by firing volleys.