The political stoush over Invermay's future between Dunedin North MP David Clark and Dunedin-based list MP and Immigration Minister Michael Woodhouse continued this week.
Dr Clark took a swipe at Mr Woodhouse in the House on Wednesday as he continued his campaign to have AgResearch leave Invermay as it is, rather than send more than 80 skilled scientific and other jobs north to Lincoln or Palmerston North.
It was a ''little bit disappointing'' the National Party list member - Mr Woodhouse - who lived in Dunedin had not been out there, putting pressure on Economic Development Minister Steven Joyce to look at the issues, Dr Clark said.
''There has been no statement. There has been silence from the list member who is based in Dunedin and that is disappointing.''
To which Mr Woodhouse responded with: ''Rubbish. Don't tell fibs''.
Dr Clark said he expected Mr Woodhouse to take a call in the House.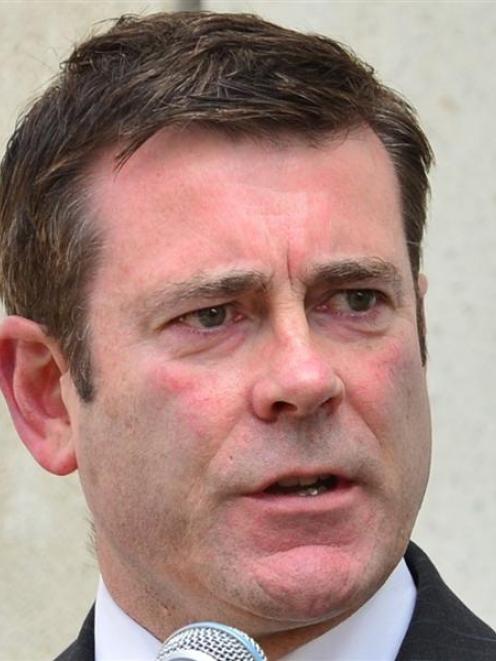 ''He is saying 'rubbish' so I look forward to his rebutting that. But I certainly have not heard the echoes of his complaints through the media, so I will listen with interest and I will look to the newspapers for criticism as those jobs are ripped out of Dunedin, as those are jobs that benefit New Zealand's economy,'' he said.
The Otago Daily Times asked Mr Woodhouse where he stood on the issue of retaining Invermay in its current form; did he favour it staying and being built up, or seeing it wound down and the scientists, staff and services being shifted north; and whether he had made any representations to Mr Joyce, Finance Minister Bill English, or any other minister regarding aspect of AgResearch.
In an email, Mr Woodhouse said he had repeatedly stated concern about the impact on AgResearch's proposal on Dunedin.
''The Government is very aware of local concern and Minister Joyce has committed to testing the proposal further with the AgResearch board.
''I favour AgResearch being right-sized and right-location to deliver the science benefits the country needs.''
Mr Woodhouse also favoured the principal stakeholders - the primary industry groups providing the majority of funding - influencing the future of AgResearch. As reported in the ODT, the major non-government funders supported the future footprint, he said.
In response to Dr Clark's swipes, Mr Woodhouse said he remained disappointed at the politicisation of the proposal by local MPs.
''Dr Clark should explain what the Labour Party would do differently. Are they really saying they would somehow override the independent board's decision - breaking down the long-standing separation that protects our Crown entities from direct political interference in the process?''
Labour steadfastly refused to do that in its nine years in government when restructures and even redundancies were being proposed by Crown entities and state-owned enterprises.
Dr Clark also needed to explain why his leader, David Cunliffe, spoke negatively about the proposition in Dunedin and positively about it in Palmerston North, which was set to benefit, Mr Woodhouse said.
''I am growing tired of certain people continually talking Dunedin down for their own end. We have more doctors, nurses, students and academic positions than five years ago.
''Port Otago is reporting record freight movements - a good barometer for Dunedin's economy - house prices are holding up, consumer and business confidence is up, crime is down and there are many other positive signs of growth.
''I am very positive about Dunedin's future. We should be careful not to talk ourselves into a negative frame of mind from which we struggle to come out.''
Mr Woodhouse said he was in regular contact with Messrs Joyce and English on all aspects of the AgResearch restructuring.
AgResearch is declining to comment on suggestions its claim that ''no science staff'' have left the organisation as a result of the restructuring plan was incorrect.
The claim last week that ''no science staff'' had left came after Bronwyn Smaill told the ODT in October that she left her job at Invermay because she did not want to move to Lincoln.
Rather than waiting until the move went ahead, Mrs Smaill began working for Gore-based fertiliser company Mainland Minerals on September 23.
In response to questions on the issue - and whether the statement last week was correct - an AgResearch spokeswoman said: ''It's not appropriate for us to comment on individual staff situations in the media.''