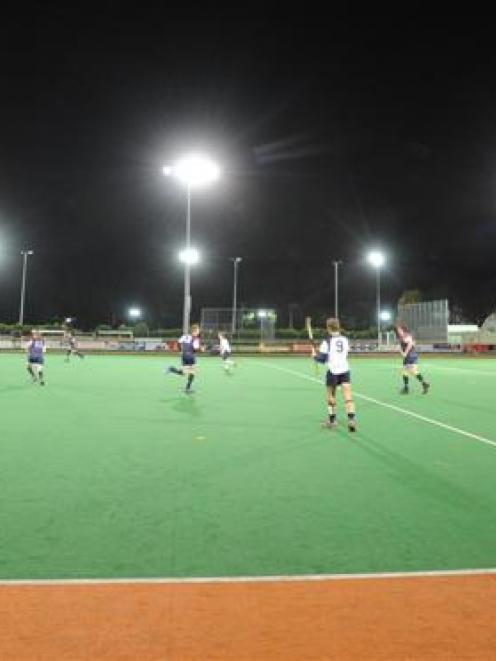 A plan for new artificial turf at Logan Park was the major casualty after Dunedin city councillors sharpened their pencils at yesterday's budget meetings.
However, other hotly contested projects survived the initial cost-cutting push as councillors began deliberations on the 2012-13 annual and long-term plans. These included funds for an office in Dunedin to co-ordinate digital literacy and access projects, which was reinstated at $60,000 a year for two years.
Funding of $750,000 for a Blueskin Bay library also survived the chop.
The decisions were subject to final approval later this week, but came after prolonged debate as councillors scrutinised lists of funded and unfunded items in the draft budgets at yesterday's session.
The major casualty was the plan for new multipurpose artificial turf at Logan Park, after $1.1 million in funding was removed from the council's draft budget following a narrow vote.
Football South supported developing an all-weather turf, which could be used under lights, and for up to 98 hours a week.
A grant of $634,000 might be available from Fifa if a football-specific turf was chosen, it said.
Cr Kate Wilson pushed for the council's funding to be removed, with council support instead given to Football South to pursue its own artificial turf on council land, partly funded by the Fifa grant.
The push came after 400 people responded to a council question on the artificial turf, including in consultation on the council's draft budgets, with 325 indicating council funding should be removed.
Despite that, Cr Bill Acklin, a member of the Logan Park working party, argued for the funding, saying Football South's plans and those for the artificial turf at Logan Park were "quite different".
The artificial turf at Logan Park would be widely supported by a variety of sports codes, not just football.
It would allow round-the-clock use and would turn the area into a true "sports hub" for the city, he said.
Taking the funding out would not save $1.1 million, as funding for the upgrade of other sports fields, removed in favour of the artificial turf, would have to be reinstated, he said.
"The artificial turf ... is the next thing that needs to be done at Logan Park," he said.
His arguments won backing from Cr John Bezett, who said the project had been "years" in the making.
Removing the funding would mean children's sport suffered, as about 50% of their matches had been cancelled because of bad weather and poor playing surfaces last winter.
"That's what you're advocating ... it's very, very important for the youth of the city," Cr Bezett said.
However, Cr Wilson said the stadium review should be completed before more council funding was committed to an artificial turf.
In the meantime, Football South's plans provided the city and the council with "a really good win-win", with the proposed facility available for other sports 30% of the time, she said.
Her views won support from other councillors, including Cr Richard Thomson and Jinty MacTavish, and councillors eventually voted 6-4 to remove the funding, with Crs Acklin, Bezett, Syd Brown and Andrew Noone opposed.
Earlier, funding for the Blueskin Bay library survived a push by Cr Lee Vandervis to remove it.
The community had fundraised about 90% of the $300,000 it was tasked with contributing.
Cr MacTavish said councillors and the community needed to be realistic given the council's funding constraints, and it was "with sadness" she supported cutting funding.
However, cutting funding was opposed by some councillors, including Cr Bill Acklin and Cr Thomson, who believed it would send the wrong signal when the council was trying to encourage partnerships to help fund projects.
"I think the council would lose a lot of credibility if it did not follow this project through," Cr Acklin said.
Mayor Dave Cull said he was "a bit torn", but removing the funding could cost the council more, through lost future partnerships, in the long run.
"It could be one of those ones that comes back to bite us," he said.
Councillors voted to retain the funding for the library after the debate.