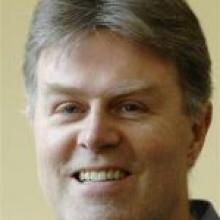 University of Otago Prof Allan Herbison, an internationally leading researcher into how the brain controls fertility, has been awarded the university's highest research honour, the Distinguished Research Medal.
The university awards the medal for outstanding scholarly achievement, including the discovery and dissemination of new knowledge and the development of innovative technology.
Prof Herbison is "hugely optimistic" drugs will be available within two or three years to help overcome some of the infertility problems encountered by couples, arising from the brain's control of fertility.
About 30% of infertility cases were linked to this brain control mechanism, he said.
"There are clinical trials going on all over the world," he added.
The new therapies were based partly on some of the fundamental research which had been carried out since 2005 in his laboratory group, and at the university's Centre for Neuroendocrinology.
Prof Herbison founded and directs this centre, which is the largest neuroendocrinology research cluster in the southern hemisphere, and involves nine Otago University laboratories, eight in Dunedin and the other in Christchurch.
The world-class research programme he had established had led to important findings about the brain circuitry controlling fertility in mammals, university officials said.
Much of the time science involved a "hard struggle", Prof Herbison said.
He was surprised and delighted with the award, which was "hugely good for morale" and reflected positively on the "outstanding team" of colleagues working with him, through his laboratory and the centre.
The Invercargill-born medical graduate of Otago returned to the university's physiology department in 2002, after 14 years of study and research in Britain and France, having gained his PhD at Cambridge University in 1991.
Otago vice-chancellor Prof Harlene Hayne said he was richly deserving of the university's premier research award.
He had made "enormous contributions", both as a researcher and through his "inspirational leadership of research activities" involving his discipline, she said.
His influential investigations of gonadotropin-releasing hormone (GnRH) neurons and the molecule kisspeptin, both of which play crucial roles in the brain's master control of ovulation and other aspects of reproduction, have been published in leading international journals such as Neuron and Journal of Neuroscience.
He has received several major multi-year grants from the Marsden Fund and the Health Research Council (HRC) and was awarded the HRC's Liley Medal in 2009 for "outstanding" research.
He has also fostered the careers of scientists, and was last year named the inaugural Best PhD Supervisor in Otago School of Medical Sciences Awards.
• The medal will be presented to him at a public lecture he will give early next year.