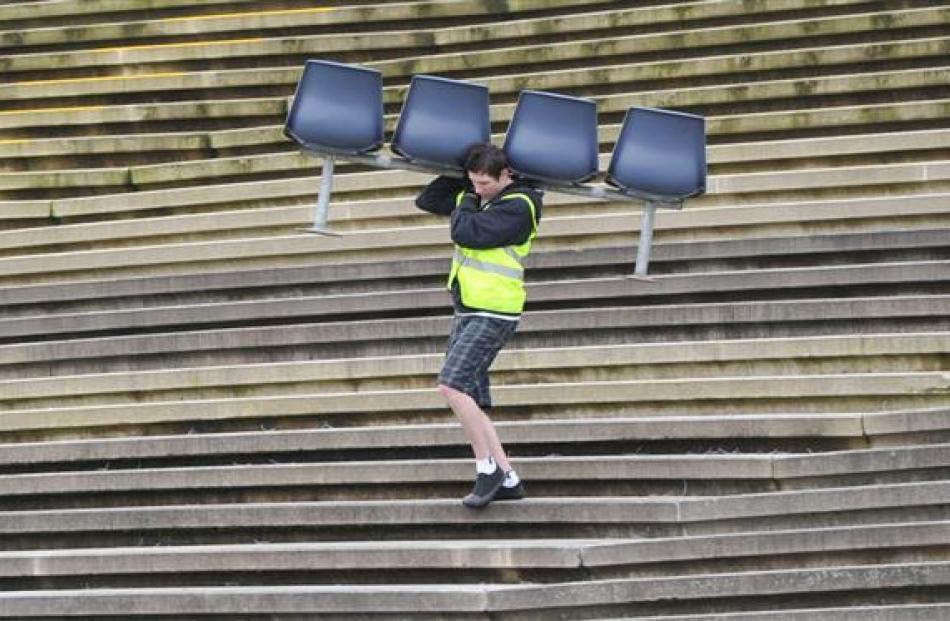 When I entered the Carisbrook garage sale on Saturday, it was my first time at the stadium.
A Hawkes Bay native, I had seen Carisbrook on television, and heard it in legend but had never stood on the terrace in a southerly wind.
And here I was, standing on the hallowed turf among the people who knew Carisbrook best, those who had shared time with the stadium.
I was a stranger at a wake.
Mourner Stewart Paul, of Waikouaiti, came to say goodbye on Saturday and carried out a blue Carisbrook seat under each arm.
As he left, he stopped, dropped the two seats and took a photo of the terraces.
''I spent a lot of time on those terraces. I almost used to live there. I'm sad to see it go.''
It was hard to see Carisbrook like this, he said.
I urged Mr Paul to remember Carisbrook in better times.
A smile spread across his face as he looked towards the terraces and remembered standing ''shoulder-to-shoulder'' watching the players who brought Carisbrook to life.
''Richard Knight, David Latta, Steve Hotton, Arran Pene, John Timu .. .''
For a moment, Carisbrook was its former self, loved and alive. He stopped listing names when his foot hit a seat in front of him.
On the far side of the ground, a Rotary member rolled turf to sell by the square metre.
Mr Paul picked up his chairs and left the House of Pain for the final time.
But Carisbrook will live on in memories and in tiny pieces across Otago. Seats will be installed on crib decks and turf will be transformed into tee blocks on a golf course.
Like the heart of a deceased organ donor, it will live on elsewhere.
Carisbrook, I didn't know you but know that you are missed.