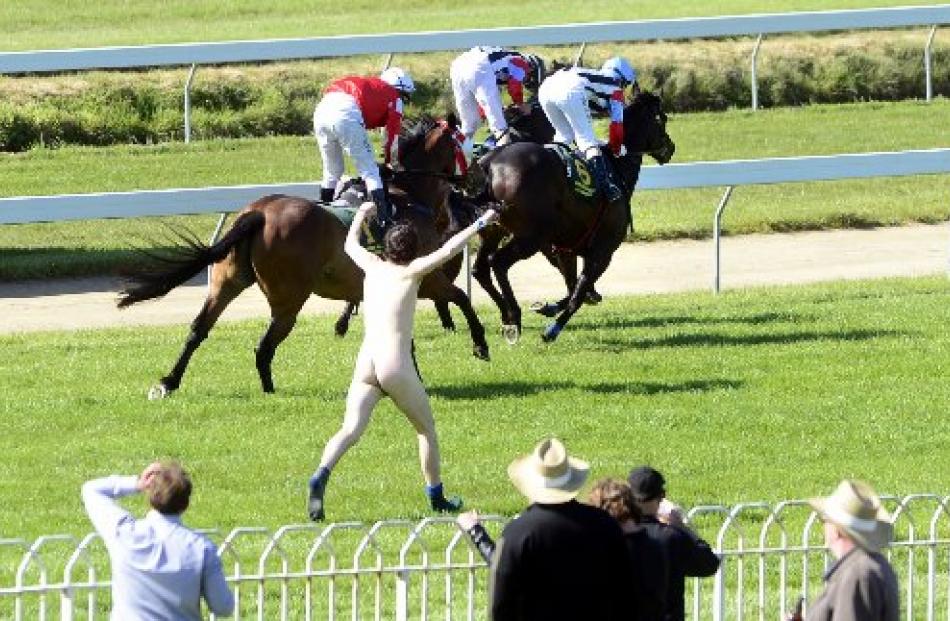 He was the one nobody bet on - a streaker who side-stepped security and ran ahead of the field during the main race at Melbourne Cup Day at Wingatui racecourse yesterday.
The 20-year-old Dunedin man was lucky not to be trampled by racing horses as they passed the winning post, but his freedom was short-lived.
Chased by security and police, he cleared the track and jumped a fence before being taken into custody, minutes after the 4.30pm race.
Police said last night the man had been arrested and was due to appear in the Dunedin District Court on Friday charged with behavioural offences.
The incident tainted a relatively problem-free race day.
Senior Sergeant Darryl Lennane said just one person was evicted from the racecourse and, overall, the event had been less troublesome than in previous years.
About 30 police officers worked to ensure alcohol consumption was appropriately managed at the venue and to monitor traffic leaving the racecourse.
The majority of punters were well-behaved, Snr Sgt Lennane said.
Students were offered a $60 package, which included transport to and from the event, general admission, subsidised drinks and a free meal within a secure area.
About 8000 people were expected at Wingatui and all those in attendance dressed for the occasion, but not the weather.
As a chilly wind strengthened throughout the afternoon, women in summer dresses and high heels sought shelter in the stands.
Fashions-on-the-Field attracted 33 entrants, including three men.
Winner Maree Darling, of Mosgiel, had never previously entered and said it was on her "bucket list" of things to do.
After giving birth to her son 18 months ago, she bought a Trelise Cooper dress with the intention of wearing it to the Melbourne Cup Day at Wingatui, which she attended every year.
Mrs Darling customised a hat and pair of shoes to match the dress and was astounded to be a finalist, let alone the winner.