Dunedin could be set to receive a multimillion-dollar cash injection from the Provincial Growth Fund, including to help pay for the city's waterfront development.
City officials and media have been called to a public announcement in the Dunedin Centre this afternoon, attended by Regional Economic Development Minister Shane Jones and Economic Development Minister David Parker.
It is expected to involve an announcement on funding for the city's waterfront development bid, but also money for the city's Centre of Digital Excellence (Code) initiative.
It will put to an end a long wait for an answer for the city, which submitted a bid for PGF funding for the waterfront project - believed to involve a request for $100million - over a year ago.
The money, if approved, will pay for groundworks, building platforms and sea wall upgrades needed to prepare the waterfront for development.
Such costs have long been seen as a barrier to private sector investment, making the PGF bid - and the size of the sum awarded - crucial to the wider project.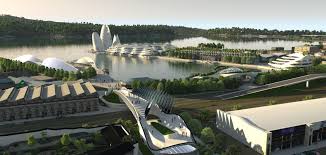 Separately, plans for the Code initiative in Dunedin were announced by then-Labour leader Andrew Little in 2017.
The centre was to have $10million spent on it over 10 years, paid for by the PGF, it was said at the time.
The announcement is scheduled to begin at 1pm.