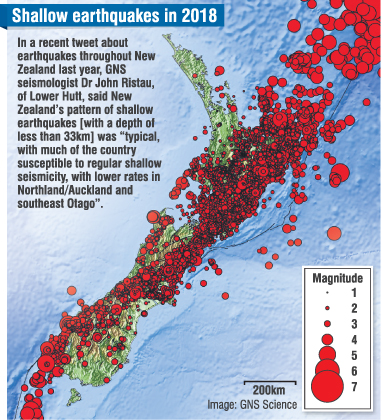 Dunedin and southeast Otago had among the fewest shallow quakes in New Zealand last year, but scientists warn that "large damaging earthquakes" could strike the city in future.
The lower southeast part of the South Island, including Dunedin, and Northland/Auckland, experienced the lowest levels of shallow earthquakes — less than 33km deep — in mainland New Zealand last year, according to GNS Science data.
"There is the potential for large, damaging earthquakes on close-by faults,"  Mark Stirling, of the University of Otago geology department, warned.
Prof Stirling, who is chairman of earthquake science at the university, said that large earthquakes could occur on nearby faults, such as the Akatore and Titri Faults.
Dunedin's earthquake hazard was higher than Auckland's.
Prof Stirling recently said he wanted to make Otago people aware that there were potentially hazardous earthquake sources that were closer to Dunedin than the Alpine Fault.
"The Akatore Fault and the Titri Fault are very close to the city, and if they had their major earthquakes they would shake the city very, very badly compared with what an Alpine Fault [earthquake] would do," he said.
Dunedin had low seismicity, but there were faultlines in the area that had had big earthquakes in the geologic past.
The "big uncertainty" was how to better predict when and where such quakes would occur, he said.
GNS Science seismologist John Ristau, of Lower Hutt, recently tweeted two map images showing the location of the country's shallow earthquakes, and of quakes deeper than 33km, last year.
The images showed a "typical pattern" of almost no deep earthquakes in the central South Island, he said.
The maps also showed  few deep or shallow quakes in the southern southeast, including Dunedin.
Dr Ristau warned that all parts of New Zealand needed to remain alert  about earthquake hazards, and there was a risk of misinterpreting both a single year's data, and longer-term earthquake records.
The magnitude-7.1 Darfield earthquake, on September 4, 2010, involved a pre-existing faultline which had been inactive for about 18,000 years.
GNS Science earthquake maps showing the Christchurch area, before the big quakes in 2010 and 2011, had shown little recent big quake activity in the area, but that picture had now changed, Dr Ristau said.