Grey Power Otago's president says a dramatic escalation in the Dunedin City Council's budgeted debt is horrifying and a proposed rates increase of 9.8% is appalling.
If city councillors do not make serious adjustments to the council's planned programme, residents on fixed incomes would get the message they should "get the hell out of Dunedin", president Jo Millar said.
A few city councillors said yesterday they were worried about planned rates rises and projected debt, but most stayed quiet before 10-year plan discussions which start in earnest today.
Councillors will have to decide whether they promote the full budgeted programme - including $1.5 billion of capital spending that would force up debt by about $560 million by 2031 - or make cuts before proceeding with public consultation.
Economist Cameron Bagrie said councils were in an awkward position.
Investment in infrastructure was essential, but debt metrics had to be within reasonable bounds and councils had to make sure they got value out of their spending.
"They've got huge deferred infrastructure liabilities that need addressing."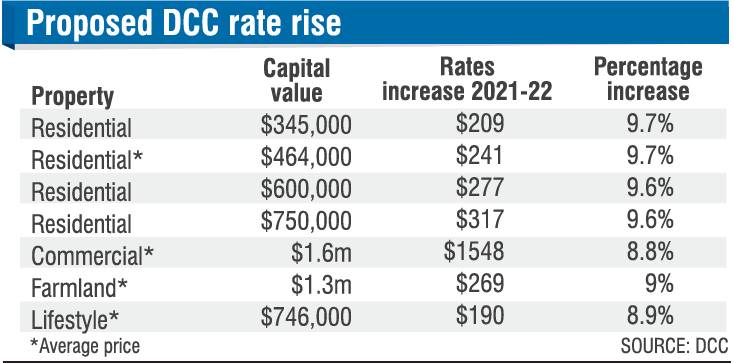 The Dunedin City Council has budgeted on a rates rise of 9.8% in the first year of the plan and then an average increase of 5.68% in years two to 10.
Debt could skyrocket to $869 million by 2031.
However, councillors would adjust the programme after public feedback.
Much of the budgeted capital spending is not new.
About $950.5 million is for what the council calls renewals, $487.5 million is for new capital and $77.4 million is for growth expenditure on water, wastewater and stormwater systems.
Mrs Millar did not want councillors to be under the impression residents would be relaxed about debt and rates figures she found startling.
Residents also faced price hikes from the council's energy company Aurora, she pointed out.
Amid economic fallout from Covid-19, the council should cut its cloth to suit, she said.
Cr Andrew Whiley said the council had an infrastructure backlog that needed to be dealt with immediately.
Making sure the city had suitable housing, and the infrastructure to support it, would also not come cheap.
Councillors would have their most intense discussions in May about what should stay in the plan, before the plan was finalised, he said.
However, Cr Jules Radich advocated making some cuts now.
The council could start by axing a series of transport projects of dubious worth, he suggested.
Cr Lee Vandervis said increases in staffing levels contributed to rates rises.
Lack of performance by council-owned companies did not help and he was opposed to costly pursuits such as making life more difficult for motorists.
"Pumping debt while not even maintaining existing assets and services is an ugly way of making rates increases appear less extreme," he said.
"Despite Covid, despite annual plan submissions, and because of little business or private sector experience, the DCC is being led into borrowing and paying for useless ideologies and restrictions on Dunedin's development."
Timeline
• September 20 to October 30, 2020: Early engagement on 10-year plan
• From November: Preparation of council budgets
• March 23 to April 22, 2021: Public consultation on draft plan
• Week beginning May 3: Hearings Week
• Beginning May 24: Councillors deliberate
June: Plan adopted