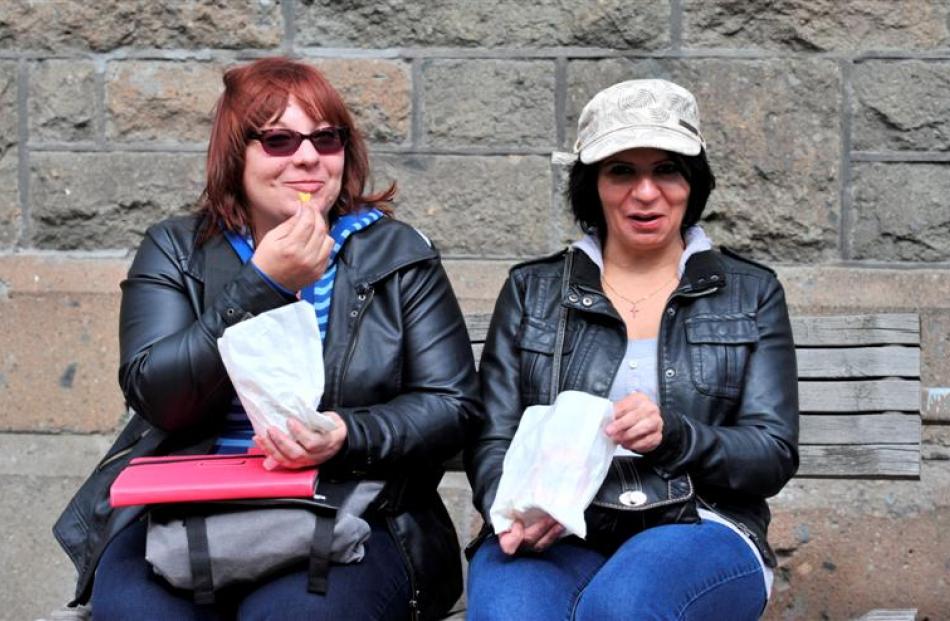 The Dunedin cruise ship season is winding down and the last multi-ship visit was yesterday.
Celebrity Solstice and Pacific Pearl delivered more than 5000 visitors to the city yesterday.
It was the last deluge of the 2012-13 cruise ship season. Just five visits are left on the schedule before it ends next month.
It will be a record cruise ship season. The Dunedin City Council estimates 161,000 passengers and 69,000 crew will have visited Dunedin on 84 cruises by the end of the season.
A group of Jamaican friends, now resident in the United States, spent the morning in the sun at the Dunedin Railway Station after disembarking from Celebrity Solstice.
''We always like to do a tour around the cities we get off in to get a feel for the place,'' Joan Harris, of New York, said.
''We all grew up in Jamaica, so we've always wanted to come to New Zealand because of the cricket connection. We're huge cricket fans,'' Phyllis Parsons, of Georgia, said.
''Your country is absolutely beautiful. But do you know what the best thing here is? No snakes and no lizards,'' Zona Coley, of Georgia, added.
Pacific Pearl passengers Jackie Pace and Diana Carey, of Sydney, were visiting Dunedin for the first time on their maiden cruise.
''Cruises are great fun. There's everything you could want in one place,'' Ms Carey said.
''The food's really nice on the ship, but we thought we'd get some chips for lunch because we were looking for something quick and easy to eat.''
Celebrity Solstice left Dunedin at 5pm and Pacific Pearl at 6pm yesterday. Three more ships arrive this weekend: Marina tomorrow, Oosterdam on Sunday and Dawn Princess on Monday.
Council business development visitor industry adviser Sophie Barker said yesterday cruise ship visits to Dunedin grew 18% last year.
''That's a huge increase and it's growing every year.
''It adds so much vibrancy to the centre of the city. Dunedin is also very fortunate that we're either the first or the last port.''
About 90% of passengers disembarked when ships berthed in Dunedin.
Cruise ship visits now comprised 8% of all visitors to the city.
Passengers spent an average of $125 a day and crew $45 a day, Ms Barker said.
''At the end of the every season, the cruise action group sits down and works out what went well, what didn't and what we could do better.''
The final visits of the 2012-13 cruise ship season are Radiance of the Seas on April 4 and Oosterdam on April 5.