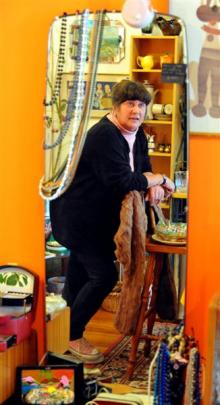 Cruise ship passengers avoiding what they say are overpriced shuttles to Dunedin city visited Port Chalmers instead yesterday, despite suggestions from cruise ship staff to bypass the town.
Cruise ship passenger Sue Hansen, of Queensland, said she had visited ''quaint'' Port Chalmers 20 times - many of them as a cruise ship staff member but yesterday as a passenger on Celebrity Solstice with six other Australians.
The group decided to spend the day in Port Chalmers yesterday because the shuttle bus to Dunedin, which the ship had contracted, cost $18.40 return.
''They charge too much.''
She wanted the group to go on a private tour but as no-one was waiting on the wharf, they stayed in Port Chalmers.
Tour operators were banned from the wharf at Port Chalmers this cruise season because of the behaviour of some operators last season.
Private tours were preferable because passengers could see more attractions and they were cheaper than a tour organised from the ship, she said.
''It's ridiculous the prices they charge. Passengers are getting ripped off.''
Tall Poppy Cafe waiter Marcus Adams (26) said many passengers visited the Port Chalmers cafe because of the ''ridiculous'' shuttle costs to Dunedin.
Magpies owner Christine Robinson said some Australian passengers shopping in her retro secondhand store in Port Chalmers had been told by cruise ship staff there was ''nothing worth seeing'' in Port Chalmers, just a grocery shop and a few houses.
The staff recommended they board a bus to Dunedin and miss Port Chalmers completely.
''I don't think we should be dismissed or bypassed.''
Cruise ship passengers Mike Daly (66), of Ireland, Joy Sinclair (62), of England, and Dorothy (70) and Alfons van Bakel (75), of Tauranga, said they would have got a minivan taxi or a private tour of Dunedin if there were vans waiting in Port Chalmers.
Mrs van Bakel said overpriced buses for passengers was not peculiar to Dunedin.
Cruise ship staff told passengers in Mount Maunganui to board a bus to Rotorua because there was nothing to see in the town.
''They do it in every port.''
Ritchies Bus and Coach Otago regional manager Malcolm Budd said Ritchies had the contract from the cruise ship to shuttle passengers from Port Chalmers to Dunedin yesterday.
Ritchies charged the cruise ships a lump sum to transport passengers between 9am and 6pm on 10 buses, he said.
''We are averaging between 245km to 300km a day per bus.''
The Dunedin City Council had no involvement except being paid by Ritchies for traffic management costs, such as road closures, he said.
''We have to wear that ourselves and we charge the ship.''
Ideally, the council should pay the shuttle costs and the passengers would not be charged, to ensure greater economic benefit to Dunedin, he said.
''It should come out of the ratepayers' pocket and that would get people into town to spend their money.''
Each ship charged its passengers a different fare for the shuttle to Dunedin.
He was surprised some passengers were left wanting private tours because they could have organised a tour at the i-SITE marquee on the wharf.
Banning tour operators from the wharf was ''working reasonably well''.
However, he was aware cruise ship staff were advising passengers to not bother visiting Port Chalmers and giving them outdated information.
''They are even telling people the shops aren't open in Dunedin on a Sunday.''