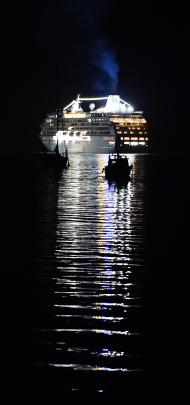 The departure from Dunedin last night of the cruise ship Sirena signalled the end of the most weather-disrupted season on record.
The season closed on a good note, however; the cruise ship's about 700 passengers were treated to a beautiful autumn day after a rough voyage across the Tasman Sea.
The weather was not as welcoming on many other scheduled cruise ship days and scuppered the first arrival of the Ovation of the Seas in October.
Dunedin was to have been the first New Zealand port visited by the $1.4 billion Ovation, the biggest cruise ship to come to New Zealand.
Dunedin i-Site visitor centre manager Louise van de Vlierd said the cruise ship season would be remembered as "one of the most disruptive - weather-wise''.
Of the 87 cruise ship visits scheduled, eight were cancelled because of the weather, she said.
She could not recall a season disrupted more by the weather. "I've never known such torrential rain on port days before.''
Despite that, passengers and services in Dunedin coped well.
"It went incredibly well, given the weather conditions we had to operate under.''
Port Otago commercial general manager Peter Brown said there were usually one or two ship visits cancelled each season. Eight cancellations was "a very high number''.
"It was a very challenging season.''
The death of a crew member on Emerald Princess as a result of a gas canister exploding on the vessel at Port Chalmers in February was a "tragedy'', he said.
IDNZ Otago destination manager Stan Westwood, who is responsible for getting passengers from cruise ships to tours and co-ordinating shuttles, said there would be roughly the same number of visits next year, but the ships would be larger.
"It's just going to get busier every year. The cruise industry is starting to realise that we are a good market over here in New Zealand and the feedback from passengers is always positive,'' Mr Westwood said.
Dunedin rated highly for passengers on the list of stops in New Zealand.
"The only thing they don't like is the cold, but you can get that anywhere.''
Dunedin was proactive about improving its offering every year and tour providers in the city were more flexible than elsewhere in the country, he said.
When ships came in late, tour operators did their best to accommodate, which included staff coming into work late.
Dunedin's location meant it attracted more ships than other centres and Mr Westwood believed the city was the "cruise ship capital of New Zealand''.
Passengers from Sirena were impressed by what they found in Dunedin yesterday and were full of praise for the weather, architecture and friendliness of the people.
Ed Flank, of California, said it was a relief to be on land after the ship encountered massive swells and 52-knot winds on the voyage across the Tasman.
He and his wife Misa were impressed by the cleanliness of Dunedin and said it was a "beautiful'' city. They enjoyed travelling in autumn because it meant they could avoid hot weather.
More than 90 ships are expected next season, which begins in October. Ovation of the Seas is scheduled for seven visits.