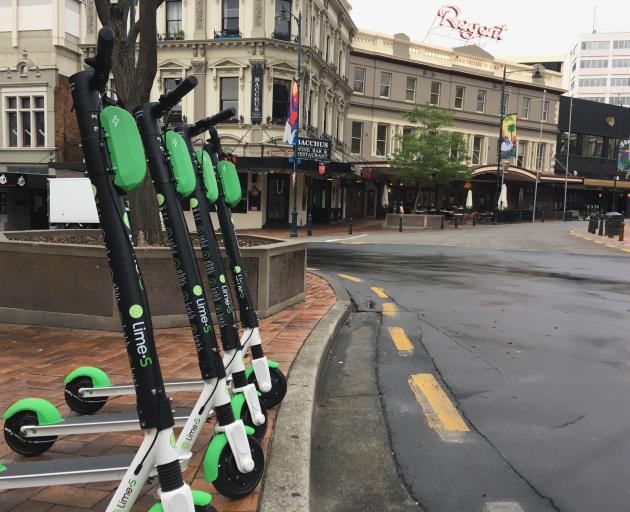 Dunedin will soon follow others cities, including Auckland and Christchurch, and require e-scooters companies to hold a licence and pay a fee to operate.
The Dunedin City Council today voted to start an early review of its mobile trading bylaw, not scheduled until 2024, which aims to give it greater controls over the use of e-scooters.
It has also asked that a report be urgently made on what mechanisms were available to restrict or control e-scooter use on footpaths in busy pedestrian areas like George St.
Changes to an existing bylaw will mean e-scooter companies will need a licence and pay a fee to operate in Dunedin.
However, they will not address other issues such as helmet use and speed limits.
Since its e-scooter service launched in Dunedin earlier this year, Lime has been able to operate without a licence or permit but did sign a memorandum of understanding with the council.
Unlike in Auckland or Christchurch, it also has not paid a fee.
A report on e-scooter use in Dunedin has recommended that the council begin the early review of the bylaw and write to the Ministry of Transport and the NZ Transport Agency urging them to take a national approach to the use of helmets, cycleways and speed-limits.
Although the changes would allow the council to regulate the number of scooters a company could operate and put in place a curfew, it would not be able to set speed regulations or make the use of helmets mandatory, the report said.
Changes such as those had to take place at a central government level.
Council community services general manager Simon Pickford said Lime was aware the report was being made but it did not see a copy until the agenda for Tuesday's meeting was publicly released last week.
Following the voluntary recall because of safety concerns last month, there had been greater communication between Lime and the council, Mr Pickford said.
There had only been a few minor incidents recorded and there had been no hardware issues, he said.
Only one other e-scooter company - the New Plymouth based Blip - had formally contacted the council about possibly operating in Dunedin.
The council knew of at least one other, Wave, which was considering operating in the city but there had been no formal approach, Mr Pickford said.
Wave is advertising for field technicians in Dunedin to perform daily operations and maintenance on their fleet of scooters, and managing director Albert Hoeft has suggested it could be operating in the city within two months.