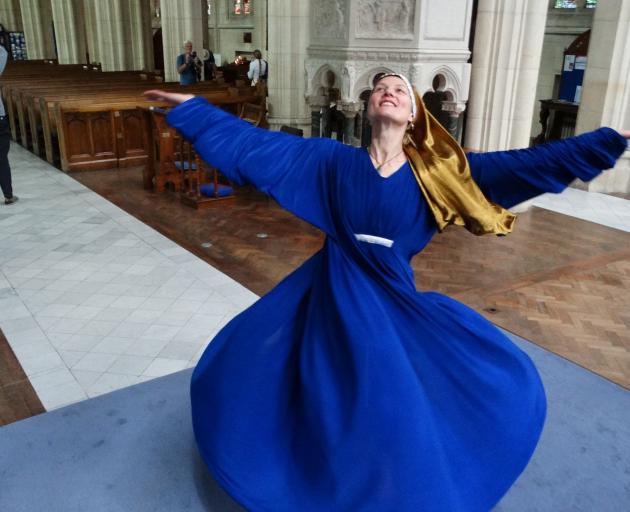 The extraordinary work of Dunedin dancer and choreographer Shona Dunlop MacTavish is being resurrected in her memory.
Dunlop MacTavish, who died in June aged 99 years, was known as the "mother of modern dance'' in New Zealand, and celebrated for innovative works such as A Feather on the Breath of God.
The piece, which highlights the life and legacy of visionary 12th century abbess Hildegard of Bingen, is being recreated in a one-off performance on Saturday, November 16, at 7.30pm in St Paul's Cathedral.
The lead dancer in the original performance of the work 20 years ago, Bronwyn Judge, has returned to guide the dancers in recreating the work's choreography for the performance.
The lead role of Hildegard is danced by Oamaru-based dancer Heather Hubber, who performed the lesser role of a nun under the direction of Dunlop MacTavish herself 20 years ago.
"Shona totally inspired me with her deep understanding and depiction of the spiritual aspect of the dance,'' Hubber said.
"She encouraged her dancers to dance beyond ourselves, and that is part of her impressive legacy,'' she said.
Hubber and her fellow dancers, who include her sister Victoria Cooper (dancing the Vision - originally performed by Dr Suzanne Renner) and former Caroline Plummer Dance Fellow Hahna Briggs (dancing Virtue - danced by Plummer herself in 1999), along with community dancers, university students and alumni, have taken part in regular Saturday rehearsals with Judge and School of Performing Arts head of dance programme Sofia Kalogeropoulou.
Hildegard's costume for A Feather on the Breath of God has been recreated by Charmian Smith, while the selected passages from Hildegard's own writings - originally read by Terry MacTavish - will be recited by Jessica Latton.
The project has been supported by a grant from the Creative Communities Scheme.
The performance of Dunlop MacTavish's Feather on the Breath of God will be a key feature of the Leap Dance Symposium, running from November 15 to 17, at Allen Hall Theatre.
Organised by Ms Kalogeropoulou, the symposium will bring together dance scholars, curators, choreographers, practitioners and teachers to celebrate and examine the history of dance in New Zealand.
Keynote speakers for the symposium are Prof Carol Brown, of the University of Melbourne, and dancer, choreographer and teacher-researcher Michael Parmenter.
Ms Kalogeropoulou said the event would also highlight the heritage and lineage of dance, and the passing on of knowledge to a new generation.
The performance of Dunlop MacTavish's work was a prime example of this, with the original team mentoring a new group of performers, including community dancers and students of the School of Performing Arts, she said.
The Leap Dance Symposium is part of the University of Otago's 150th anniversary commemorations.