A Dunedin businessman was ordered to pay nearly $400,000 in penalties and wage arrears for the exploitation of ex-staff members, but after almost four months they are still waiting for the bulk of the cash. Rob Kidd charts the long-running case, and speaks to the man's wife who claims they were set up and are now broke.
In July 2020, Anesly Joy Samuel stood smiling on the worksite of his new Dunedin cafe as it took shape around him.
His popular Romeeco Bakery, almost next door in George St, had outgrown its premises and he told the Otago Daily Times he had experienced a long wait to find somewhere bigger and suitable.
"Yes it's a critically bad time, but still I have confidence. I always believe in my skill and strength," Mr Samuel said that day.
He was referencing the globally snowballing Covid-19 pandemic, but there were darker clouds looming in the background, which he failed to mention.
Three years earlier, the Labour Inspectorate - the government department which ensures compliance with employment standards - received an anonymous tip-off about Mr Samuel exploiting his staff.
By 2018, the investigation was in full swing as it discovered employees were working more than 80 hours a week and being paid for less than half that.
And when Mr Samuel found out the workers had turned against him, he issued violent threats which were recorded by the victims and provided to inspectors.
An Employment Relations Authority (ERA) decision, released in November, emphatically went against the businessman, who now faces financial ruin.
Authority chief Andrew Dallas ordered Mr Samuel to pay nearly $400,000 in penalties and wage arrears for the three affected workers.
The sum was due to be paid in 28 days but a Ministry of Business, Innovation and Employment confirmed $350,000 of the bill remained outstanding.
A spokeswoman said the ministry was now taking "enforcement action".
Speaking out
After months of silence, Mr Samuel's partner, Wadduwage Nirosha Dilrukshi Perera, spoke publicly about the case this week for the first time.
In a tearful interview from Knox Cafe, which the couple still owns, she staunchly maintained her partner's innocence and claimed the three aggrieved employees had plotted against them.
"They had a plan, a long-time plan. I feel so bad because I know how I treat them," she said.
Ms Perera said they had been financially crippled by the ERA's ruling and could not afford legal representation for an appeal.
The family's four-bedroom-two-bathroom home - described online as "a private urban oasis" - was on the market, seeking offers of more than $739,000.
And Ms Perera stressed they were also trying to sell the cafe, little more than a year after opening their doors.
The business was priced at $199,000 - "well below the chattel, equipment and fit-out cost", an online advertisement said.
Ms Perera said until they sold, the ministry and former staff would have to wait to receive their cash.
"We can't get the buyers so what can we do? We don't have any money."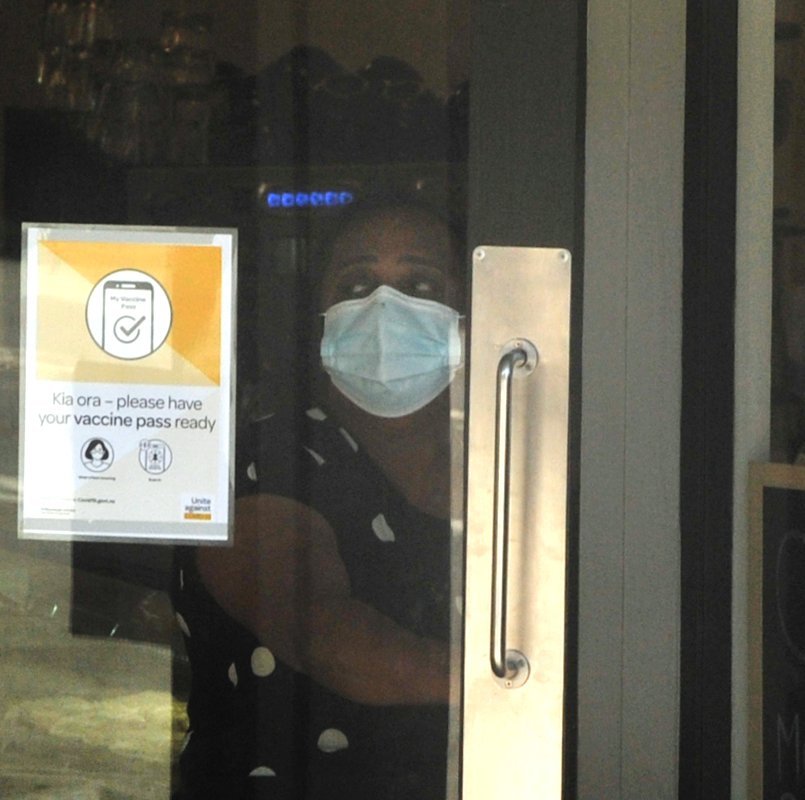 Inconsistencies
The disarray in which Mr Samuel now finds himself could be traced back to November 2017 when labour inspectors made an unannounced visit to Romeeco Bakery where Ms Perera was working alongside a male employee.
They were interviewed separately and it was discovered there were no timesheets for workers.
When the inspectors made another surprise appearance two days later, they found the same man working outside rostered hours.
Ms Perera was quizzed about it and provided a different schedule to what she had proffered earlier that week.
And when Mr Samuel became involved the waters were further muddied.
He handed over documents which appeared to show staff working 40 hours a week but inspectors said they "had the appearance of after-the-fact reconstruction about them".
Workers who were interviewed told a different story.
They described working more than 80 hours a week, including public holidays, for $424.
Threats
In February 2018, Romeeco was issued with an infringement notice for $2000 for inaccurate record keeping, which was immediately paid.
But the fine appeared only to provoke further errant behaviour by Mr Samuel.
Over the following two months, he made explicit threats to two employees by phone, which were recorded and disclosed to the Labour Inspectorate.
Believing one worker to be responsible for the initial complaint, Mr Samuel said he would arrange someone to cut off the man's limbs and harm his family.
A second man was told to "prepare for his parents' funeral in Sri Lanka.".
The same staff member, who had moved to Auckland by that stage, was called by a business associate of Mr Samuel's a week later suggesting people were watching him and it would be "very bad" for him and his wife should he continue with the case.
Ms Perera told the ODT this week the men had deliberately "wound up" her partner and that the recorded conversations were a set-up.
"He would never ever do [what he threatened]," she said. "Not at all. If you check his Sri Lankan records there is nothing."
Punishment
ERA chief Mr Dallas described the evidence given in support of Mr Samuel as "haphazard" and he had no hesitation finding breaches in minimum standards had been proven.
The businessman's claims that his transgressions were "inadvertent and unintentional" were swiftly dismissed.
"This is completely overwhelmed by the evidence before the authority and requires, and deserves, no further consideration," Mr Dallas said.
He was similarly dismissive of Mr Samuel's argument he should receive a 70% reduction in penalties because of his financial hardship.
The Labour Inspectorate pointed out that he had forwarded his two businesses $220,965 and drawn a shareholder salary of more than $70,000.
It also highlighted the home he had bought in 2017 had appreciated in value by $250,000.
"Mr Samuel has been on notice for a long time that one day he would likely face the prospect of having significant penalties imposed on him ... that day has now arrived," Mr Dallas said.
And in a final blow, the name suppression order which had protected the man for more than two years was finally lifted because of the "overwhelming public interest in the nature of the case".
"Mr Samuel, in particular, must accept he is the architect of this state of affairs."
Big picture
Taieri MP Ingrid Leary said the case was another example of "appalling and heart-breaking migrant worker exploitation".
"I have been watching this case go through the courts, and continue to do so to ensure the affected workers get justice in terms of the wages that the court says is owed to them - and I am prepared to step in to advocate should that be needed," she said.
People who left difficult circumstances to come to New Zealand were often inherently vulnerable, she said; grateful to be in the country, unwilling to rock the boat for fear of losing their job or visa status.
A select committee Inquiry into Migrant Exploitation had received 82 written submissions and nearly 50 requests to make oral submissions before the deadline came earlier this month.
Education and Workforce Committee member and Labour MP Ibrahim Omer was enthusiastic about the response but said if people were not so scared to speak out they would have come forward in their hundreds.
He said the ill-treatment of migrant workers in the country was "deeply entrenched".
"It's a black spot on our image as a free country," said Mr Omer. "It's slavery."
Not over
Ms Perera said she was thankful they still had the loyal support of some in Dunedin.
"We help this community a lot. We love it here, we love the people," she said. "I know in my heart who we are, my husband knows in his heart."
But things may yet get worse for the couple.
Mr Samuel as the sole director and shareholder of the companies involved claimed sole responsibility for the failings but the Labour Inspectorate had a different take.
It argued Ms Perera had a role in running the bakery business and had claimed to be an owner.
"Ms Perera was aware of the breaches and was a person involved in breaches of minimum standards," the Labour Inspectorate said.
Mr Dallas delayed making a decision on her liability, pending a decision by the Court of Appeal in a different case, which would determine the requisite level of knowledge required for a person be found to be responsible for such a breach.
That judgement was released before Christmas and the ODT understands lawyers for both Ms Perera and the inspectorate have filed written submissions on the point.
A determination by Mr Dallas is expected in the coming months.
Timeline
Jun 2017:  MBIE receives anonymous complaint about Romeeco Bakery.
Nov 13, 2017: Two labour inspectors conduct unannounced visit at the bakery.
Nov 15, 2017:  Inspectors return to find one of the employees working outside rostered hours. Full investigation commences.
Dec 6, 2017:  One employee tells inspectors Mr Samuel advised him to provide false, misleading information.
Feb 12, 2018: Inspectorate issues Romeeco with $2000 infringement notice for inaccurate record keeping.
Mar 11, 2018:  One worker provides recorded phone conversation of Mr Samuel making violent threats.
Apr 25, 2018:  Another recorded call in which he makes threats towards a worker's family.
May 2, 2018:  A third conversation provided which features a business associate of Mr Samuel urging the man to "drop the case".
Jun 22, 2018:  The inspectorate issues a copy of draft investigation report.
Aug 16, 2019:  Interim suppression order made in favour of Mr Samuel, Ms Perera and Romeeco.
Aug-Sept 2020: Mr Samuel opens Knox Cafe and closes Romeeco Bakery.
May 11-12, 2021:  Employment Relations Authority hearing held in Christchurch.
Nov 1, 2021:  Authority decision released, suppression rescinded.
Nov 29, 2021:  Deadline for payment passes with more than $350,000 still owing.