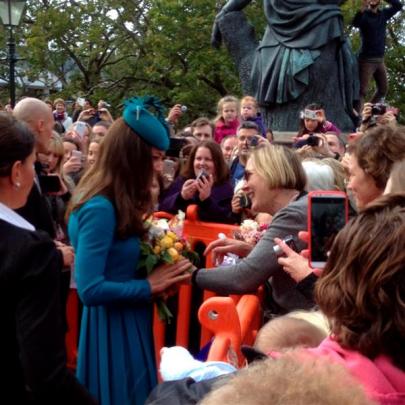 It was a case of deja vu when Maniototo woman Jane Falconer passed a bouquet to the Duchess of Cambridge yesterday.
Mrs Falconer, of Clachanburn Garden, near Patearoa, who featured in The Wash last week, has fond memories of meeting Princess Diana in Dunedin in 1983 during her nationwide tour with Prince Charles.
On that occasion, she shook hands with Diana three times, and her children gave the princess tussie-mussies - the same type of bouquet she gave Kate Middleton yesterday.
Describing herself as a ''keen follower of the Royal Family'', she, along with friend Elaine Aitken, also from Patearoa, set up camp near the steps of St Paul's Cathedral soon after 5am. Mrs Falconer had checked out the Octagon earlier.
''I was here at 4am in my pyjamas running down here and back to the motel.''
She was ''elated'' after seeing Kate.
''I said to her that she was simply beautiful and she was all coy and `no, no, no, no' and [asked] `where did the flowers come from' [and I said] `out of my garden'.
''She said they were beautifully scented.''
Asked if she was happy to have met Catherine, not Prince William, she said: ''Hell, yes. We are all into fashion and beauty.''
Mrs Aitken was also beaming after giving Kate a hand-picked bouquet of her own.