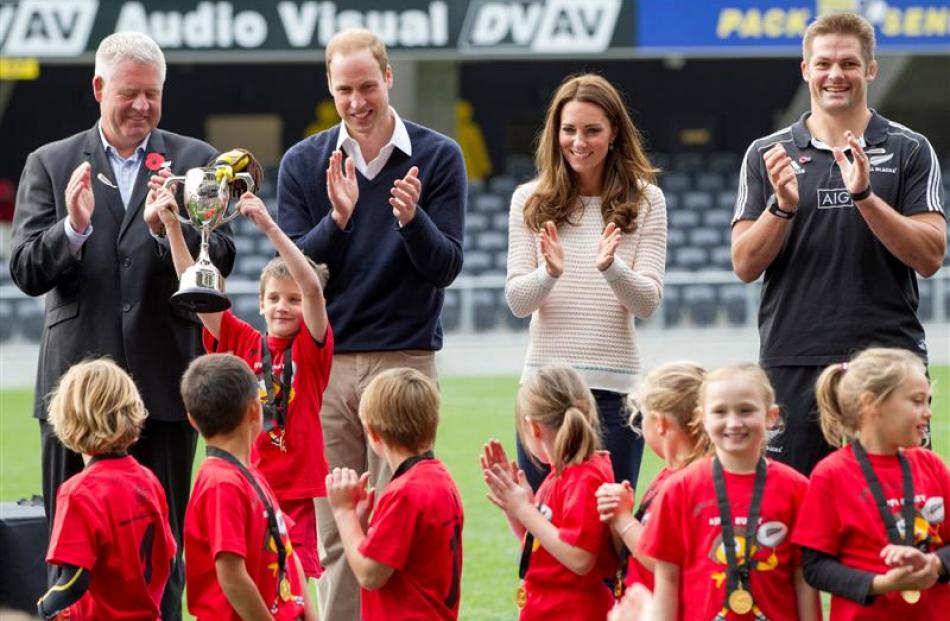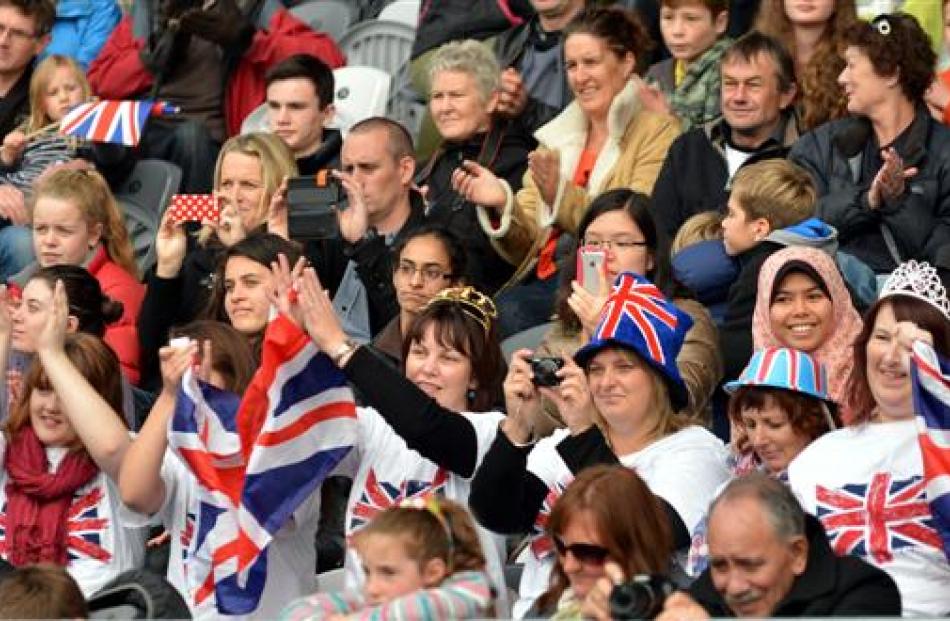 The Duke and Duchess of Cambridge made special connections with some of their southern-most subjects in Dunedin yesterday.
Royal watchers from all over the South came to catch a glimpse of the Royal couple and a lucky few were able to share words or a handshake with the pair.
About 3500 people lined barricades in the Octagon outside St Paul's Cathedral, with children sitting on parents' shoulders and a few climbing the Robbie Burns statue to get a better view.
Pat Paget, who came with her daughters Jane Paget and Sally McNeilly and grand-daughter Karyn McNeilly, said she planned to never wash her hand again after shaking Prince William's hand.
She was ecstatic when she spoke to Otago Daily Times yesterday, holding up her hand saying ''the hand that shook up the future king of England''.
''This will keep me going for quite a while and it will be my boring dinner conversion [from now on],'' she saidLike others who met the pair, she joyfully recounted the words she exchanged with the prince.
''I said 'welcome to our city, sir' and he said `how long have you been waiting here' and I said 'two hours'.
''He said 'I am glad to see you have wrapped up warm'.''
Catherine was the star of the show, with some debate in the crowd in the Octagon over the colour of the duchess's outfit - some settling on ''peacock blue''.
Elisabeth Holst (8), of Invercargill, and her sister, Cara (10), were thrilled to shake the hand of the duchess and give her flowers in the Octagon.
''She said happy Easter for next week. She's so pretty,'' they said.
Dunedin's Heather Moody was shaking after her conversation with the duchess.
She offered her a pair of warm woollen black gloves to combat the cold but her offer was turned down.
''She's very natural - just stunning.''
Ros Fawks, of near Dunedin, said waiting in the Octagon to see the Royals was well worth it.
''I told her I think George's beautiful. She said she was sorry she couldn't bring him.''
When Barry Nisbet, of Dunedin, shook Catherine's hand, he apologised for not shaving.
''I didn't realise I was going to meet royalty. She said it didn't matter.''
Margaret Armishaw, from Dunback, who travelled to Dunedin with her friend Glennis Beyer, of Nelson, said Catherine ''looked beautiful'' and it was worth getting up at 5am to drive to Dunedin and get a prime spot.
The crowd at Forsyth Barr Stadium was just as elated as 10,000 royal watchers enjoyed the Rippa rugby.
Brendon Jarvie, of Dunedin, who went to the stadium with his wife and four children, said it had been a fantastic experience.
''The kids are just so excited to see a real prince and princess,'' Mr Jarvie said.
His son, William (5) said it was ''amazing'' seeing the Royal couple, especially his namesake Prince William.
Kimberley Brown, a Portobello kindergarten teacher, was almost in tears while watching the Rippa rugby players receive their medals.
''I'm very touched for the small children,'' Ms Brown said.
She was impressed with the way the pair interacted with children.
''It was really nice to see Kate bending down [and speaking to the players]. They do look really natural. There is no pompousness about it,'' she said.
Patricia McKewen, of Dunedin, who is in her 70s, of Dunedin, was impressed with how ''down to earth'' the couple were.
This was different from previous royal visits, when members of the family were more stand-offish, she said.