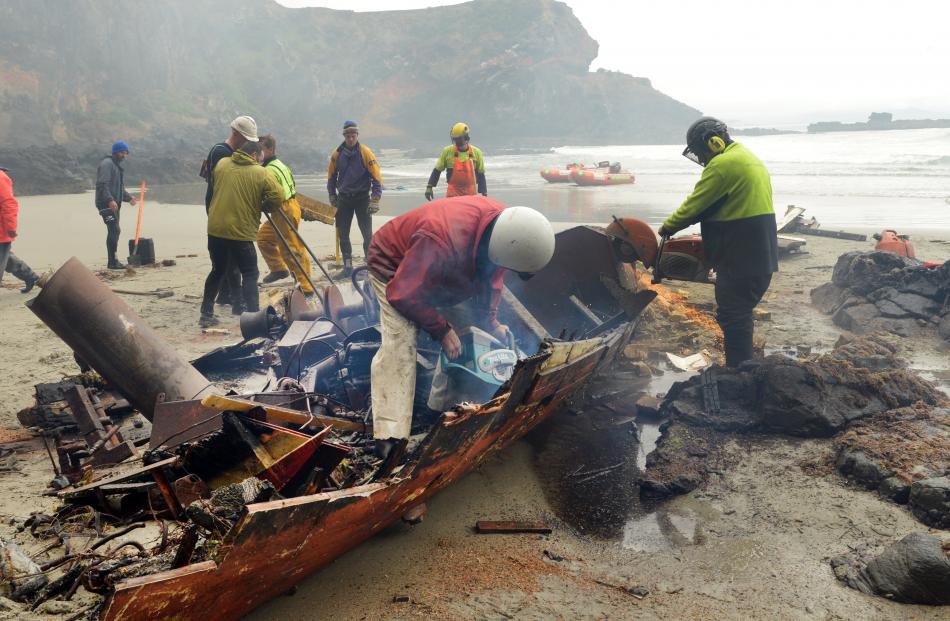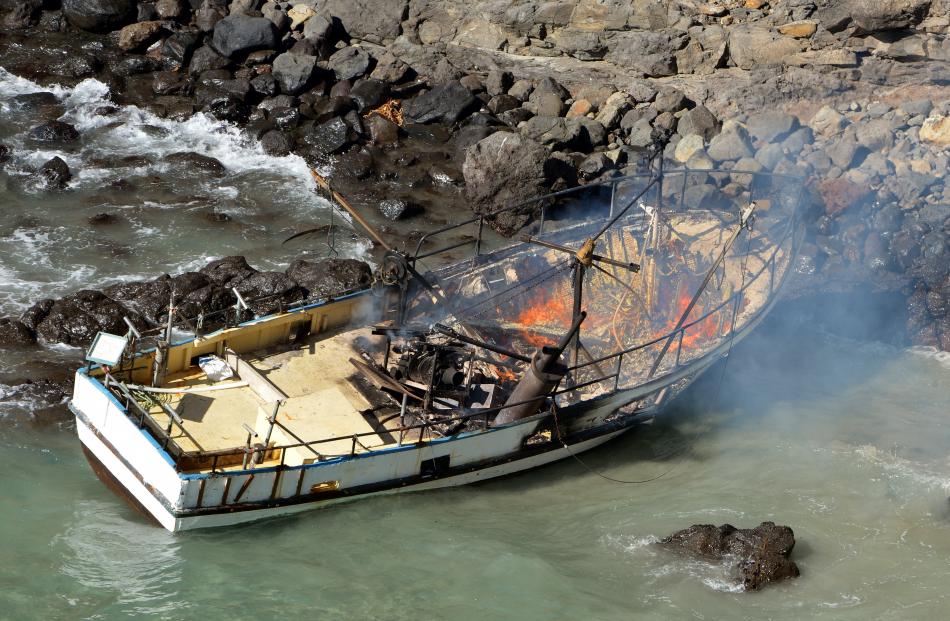 A usually quiet and remote beach at Heyward Point sounded more like an engineering workshop this week as the burnt-out remains of a former fishing boat were salvaged.
The engine room of Renegade caught fire while its owner Warren Lewis was fishing off Heyward Point in September.
Mr Lewis was winched to safety by the Otago Regional Rescue Helicopter crew before being taken to Dunedin Hospital, suffering from cold and smoke inhalation.
The boat, which ran aground on a remote beach at Heyward Point, was almost destroyed. Only the outer shell and some internal structure survived.
A team of 14 volunteers gathered on Tuesday to help Mr Lewis salvage the remains.
Salvage co-ordinator Lyall Nash said when anything happened in the boating fraternity, members generally ''downed tools'' and chipped in to help each other.
Many people, including members of the police and search and rescue clubs, volunteered their time because Mr Lewis had done a lot of work for search and rescue over the years.
Mr Nash said the salvage took about four hours.
''The reason it had to be cut up was that three-quarters of the boat was burnt out, and the harbour master wanted the large items removed from the beach so that they couldn't break off and be a danger to shipping.
''So we just got stuck in and got those items cut up.''
He said timber from the boat was burnt on the beach and some of the metal was put on boats and taken away.
However, the keel, engine and some of the larger pieces of metalwork which were largely buried in the sand, were left on the beach.
''We're going to see what nature does to it over the next two to three weeks.
''If need be, we'll go back and blast the remains with explosives.''
He believed there was nothing left there that could become a navigational hazard.
Mr Lewis was grateful for the help.
''I was overwhelmed by the turnout of people. It was beyond my wildest thoughts. So many people from various organisations turned up ... with all that equipment and tackled the job.
''They were like a well-organised swarm of ants,'' he said.