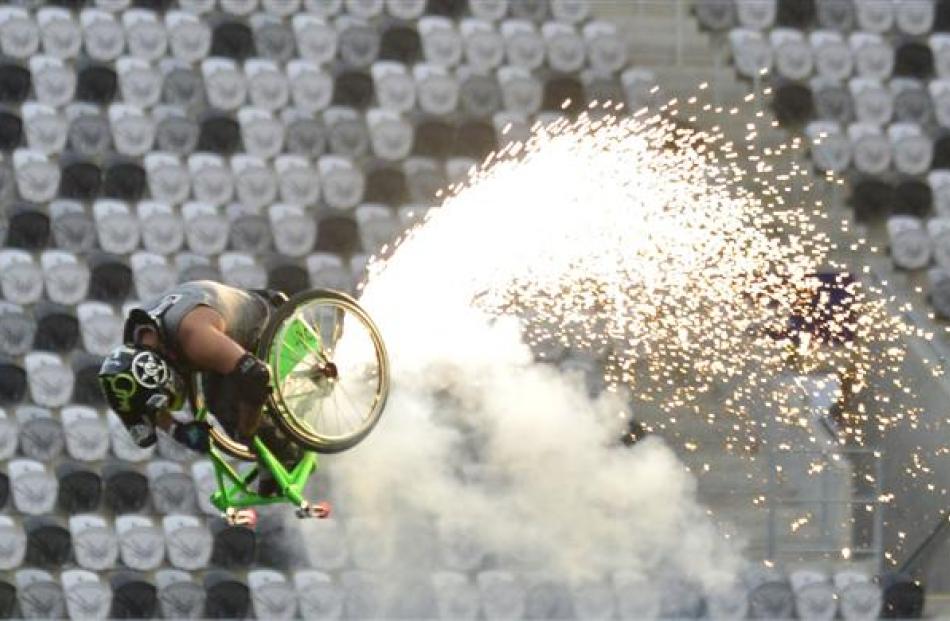 Nitro Circus Live riders had the large crowd on its feet cheering their fearless feats in Dunedin last night.
Nitro Circus Live marketing manager Nathan Brown said the night went perfectly and he was happy with the ''loud crowd'' of more than 10,000.
The MC, Bruce Robson, kick-started the evening with a primal scream and the riders jigged on the ramps to Irish folk rock as they were introduced, the crowd erupting for Kiwi riders Jed ''Triple Backflip'' Mildon and Luke ''The Comeback Kid'' Smith.
Then a motocross engine reverberated around the stadium, the airborne rider letting the handlebar go to land ''no hands'' as the crowd released its bated breath with chuckles of disbelief.
One rider jumped the gigantic ramps on a boogie board, another in a chilly bin, while Aaron ''Crum'' Sauvage landed a jump in a pink barbie doll car.
But the biggest cheer of the night went to Aaron ''Wheelz'' Fotheringham, as the Las Vegas man attempted to land a forward flip in the wheelchair to which he was confined.
Despite him attempting the feat twice and crashing both times, the crowd was on its feet, cheers drowning out the AC/DC music that boomed from the scattered mounds of speakers. The circus leaves for Christchurch this morning.