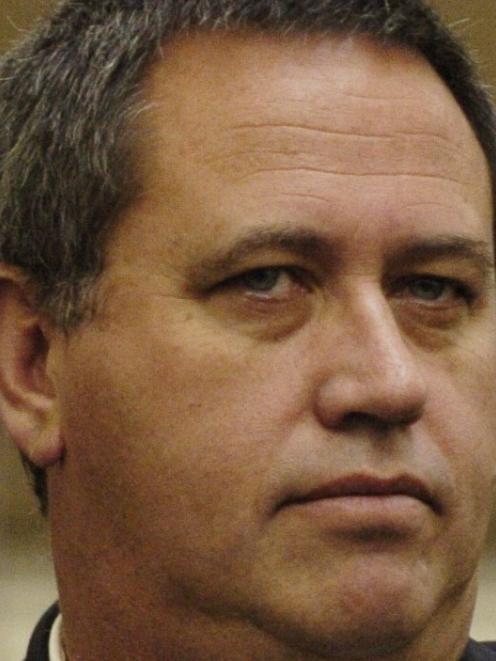 Convicted fraudster Michael Swann was told at a parole hearing yesterday ''there was light at the end of the tunnel''.
Those comments came from panel convener Judge David Saunders at the end of a New Zealand Parole Board hearing held at a Christchurch prison.
''Thank you very much,'' Swann, who was flanked by a Department of Corrections guard and his lawyer, Tony Ellis, of Wellington, told the three-panel board at the hearing's conclusion.
Swann, who defrauded the Otago District Health Board of $16,902,000,sentenced in March 2009 to nine and a-half years jail with a minimum non-parole period of four years and six months.
After serving four years and three months since his sentencing in the High Court in Dunedin he seems set to be released on parole to work for a health company, on the proviso his accommodation is found suitable.
The board asked for Swann's proposed release address to be approved by the Department of Corrections, with the hearing adjourned until next month.
Earlier, the board heard from a supporter of Swann that his engineering/biotech company, which makes products for health issues such as chronic fatigue syndrome, could use his skills.
"I am really looking forward to working with him,'' the Christchurch businessman said.
That same supporter was confirmed as the man who penned an earlier letter to a previous board threatening legal action if Swann was not given a favourable outcome.
While that letter led to a delay in Swann's parole hearing, Judge Saunders confirmed ''none of us have read the letter''.
''We have started the matter afresh.''
Swann, dressed in a brown fisherman's knit jersey, blue jeans and black shoes, appeared nervous throughout the hearing, speaking only when spoken to and focusing his attention on the panel seated across from him.
The panel noted his previous offending, his obligations to the community, the difficulties he would have in repaying society, but also noted ''you have to get on with your life''.
Mr Ellis said the Christchurch-based job offer was ''an opportunity for my client to put something back into the community''.
Swann was sentenced in the High Court at Dunedin in March 2009 to nine and a-half years jail with a minimum non-parole period of four years and six months, after being found guilty of defrauding the Otago District Health Board of $16,902,000.
The board noted that his job offer complemented the engineering work ''you have been doing in person'' at the prison.
However, the board was concerned the offer for accommodation also came from his prospective employer.
The board noted it preferred a different arrangement and inquired about an offer from another Christchurch-based support person, who was not present at the hearing.
Swann replied the support person was not present because of the presence of the media, but confirmed his offer and gave the phone number of his supporter to the board.
''You must have rung it a few times,'' Judge Saunders noted.
Swann also confirmed he would be lent a vehicle or a bicycle to travel between his new home and work.
The board said Swann should not be involved in any financial advice or access certain financial information online, due to the nature of his offending.
The family home of his supporter had yet to be visited to determine its suitability, and so the board adjourned to mid-July to allow probation officials to check the suitability of the address.