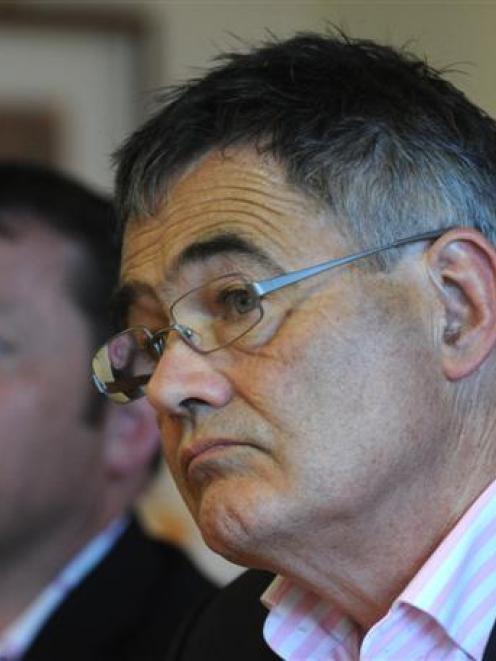 All of the scrimping, saving and budget-stretching done by the Dunedin City Council in the past week paid off yesterday, as it managed to keep the rates increase for the next financial year at 5%.
After a marathon three-and-a-half-day annual and long term plan deliberation meeting, a cheer went up around the room when financial planner Carolyn Howard announced the rates rise was 5% - with only a last-minute decision to put $10,000 into an energy plan for the city pushing it up from 4.9%.
Councillors praised the efforts of staff, led by chief executive Paul Orders, in making that happen. Cr Jinty MacTavish said it was "pretty incredible" what staff had achieved and a testament to them the increase had stayed at 5%, despite councillors adding things into the budget.
Mayor Dave Cull and Cr Chris Staynes said the process this year had been a largely positive one, with councillors working much more as a team than they had seen before.
"It's been an exhausting and exhaustive process, and it has been collegial, constructive and extremely well-informed, easily among the best I have attended in my short time here.
"I think we've achieved an enormous amount, in the face of the challenges that kept coming out of left field, right up to the last minute." Despite maintaining tight purse strings, the budget decisions this year have brought some changes for next year and beyond, including the decision not to take as much money from the Waipori Fund next year, the earlier-than-planned start for implementing the warehouse precinct parts of the central city plan and the development of an arts and culture strategy.
While clearly pleased with the work the council had done to keep the rates rise at 5% next year, Mr Cull said he understood there would be a lot of people in the community unhappy that the council had not been able to give them any funding for the next financial year.
"There were lots of things we couldn't fund that we would have liked to.We genuinely tried to spread the pain."
He said the council now faced a considerable challenge for the 2013-14 year as it had taken "every cent we could get" this year to keep the rates rise down.
At the moment, the 2013-14 rise was sitting at about 6% and council wanted to get it down to 4%.
"Either we need to find more ways to make revenue, or we'll have to cut more out," he said.
"There is no understating the challenge for next year, but having said that, the financial challenges came very late this year and we managed well."
The council went into its hearings last week with a draft rise of 4.9%, following a savings drive late last year to bring it down from 11.9%, but it had to scrabble for more savings after the double-whammy announcement that Dunedin Venue Management Ltd's (DVML) annual operating deficit would be just over $1 million and the Forsyth Barr Stadium cost council just over $8m more than expected to build.
That was followed by news this week that market conditions meant council holdings company Dunedin City Holdings Ltd planned a $2.5 million reduction in dividend payments to the council and the distribution from the Waipori Fund would be $500,000 less than expected.
It also became evident then that the Dunedin Centre Redevelopment could not save as much as it said it could next year, and council would need to continue to pay off Carisbrook debt as a sale would not be finalised this year.
The council resolved yesterday to pay DVML $750,000 annually towards its deficit, requiring it to find the difference.
In total, staff found $4.7 million worth of savings, which nearly exactly offset the decisions that increased the council's costs further, including repaying $1 million more per year on the stadium debt, to bring it to a 20-year-loan period, and bringing forward work on the central city plan.
The savings came from lower interest rates and from across various departmental budgets and included money gained from the pursuit of rates penalties and savings from staff vacancies, as well as some one-off savings from carrying forward funding for several projects, many of which were already facing delays.
Delaying the artificial turf project at Logan Park also saved $29,000 next year.