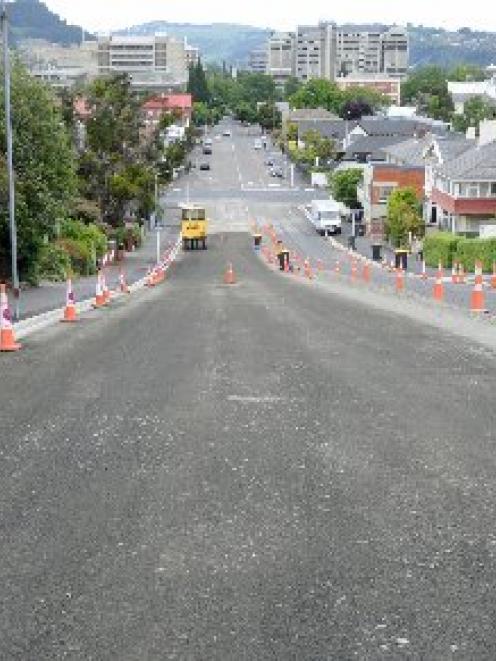 Delta says it regrets any inconvenience caused by a series of problems that have resulted in roadworks on a section of a Dunedin street for the past eight months.
There have been roadworks in parts of Union St since May, when a water main was damaged during work to install ultra-fast broadband under the street.
Dunedin City Council-owned utility company Delta, which was contracted to do the associated roadworks on the street, claimed insurance to cover the cost of fixing the water main and reinstating the road.
The road was reconstructed by Delta, supposedly to a state ready for sealing, when an inspection by council staff found several issues with it, including areas of damage arising from water infiltration (unrelated to the broken water main) and other areas below the required quality standards.
Council roading project engineer Evan Matheson said Delta had been asked to reconstruct the road again, including the construction of a new drain to divert water away from the road and prevent future water damage to the roading base and sub-base.
Lynda Hay, co-owner of the Kiwi's Nest Hostel, the entrance to which runs off Union St, said she understood there was little the contractors could do about it, as nature was testing them, but she had lost business because of it.
''Most people were OK, but some people see roadworks and they think, `hey, I don't want to stay here'.''
Contractors had been as accommodating as they could be, making sure vehicles were parked away from signage and ensuring parking where they could, but it was an extended inconvenience she hoped would be over soon.
Some residents had had to have their residents' parks relocated, but most people living in the street were students, who probably were not too affected, she said.
Delta chief executive Cameron Grady did not respond to a question last week about how these problems could have happened, but said the road was expected to be completed and sealed by Christmas. Delta did a letter drop to households before starting the repair work, he said.
''Delta regrets the inconvenience this necessary repair work has caused to residents and is working to complete repairs as soon as is possible.''