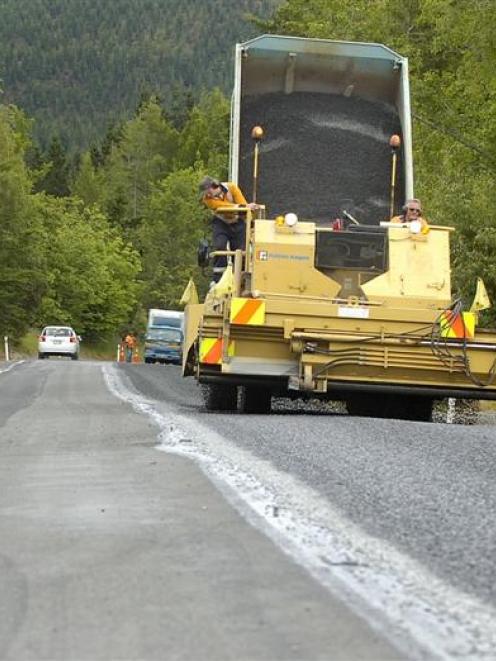 After partly reinstating its seal extension programme in the city's pre-draft budget in January, Dunedin city councillors considering the final budget decided yesterday to remove it again.
In January, councillors agreed to include $350,000 a year in seal extension funding from 2015-16 after staff proposed dumping the programme altogether from the beginning of the 2012-13 year, potentially saving $4.7 million over the next decade.
That excluded $791,000 remaining in the council's budget to complete the sealing of Big Stone Rd, near Brighton, which is still proposed to be rolled over from the 2011-12 budget at no extra cost to ratepayers.
The change followed a plea from Cr Andrew Noone, chairman of the council's infrastructure services committee, who argued the council needed to support rural residential development by sealing roads.
Cr Noone yesterday repeated his plea after Cr Jinty MacTavish proposed removing the programme.
Cr MacTavish said she opposed the programme because she did not think the council could afford due to the increasing bitumen and maintenance costs, and she would rather see the money used to extend the strategic cycling network, which had no budget beyond 2014-15.
The city did not get a New Zealand Transport Agency subsidy for the sealing work but would for the cycle network, she said.
"I just think it makes sense. I fundamentally think the money should go into cycling and I can't vote for the strategic cycling network to go back in if we don't take money from somewhere else."
Cr Noone said the council had already sacrificed three years of the programme and even then there were several submissions on the draft budget, including from three community boards, that wanted seal extensions prioritised.
The periphery was just as important as the centre of the city, and that people could choose to live there was something the city should be proud of and should not be penalised for, he said.
Cr Richard Thomson agreed the money should be brought back into the cycle network.
The council was going to have to draw the line at some point around how much further to extend sealing, he said, and it was "past time" it focused on providing adequate and safe stretches for cyclists, he said.
Cr Syd Brown was concerned removing the funding would result in "droves" of people turning up demanding it back next year.
But Cr MacTavish said she welcomed that, and as people were not expecting any further funding for three years anyway, it gave them three years to convince the council to put it back in the budget.
Her resolution was put to the vote and passed 7-4, with Crs Acklin, Brown, Hudson and Noone voting against.