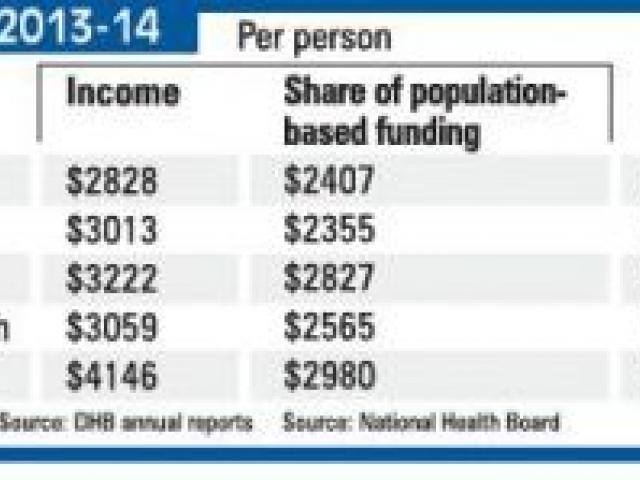 ''Shocking'' new figures showing per-person district health board income throughout New Zealand should prompt a rethink of health funding, Dunedin North MP Dr David Clark says.
Dr Clark was asked to comment on an Otago Daily Times analysis showing the 20 health boards' 2013-14 income, divided by the number of people each serves.
Those figures show the Southern District Health Board has the lowest per-person income in the South Island, and the third-lowest in New Zealand.
The only two boards with lower per-person income are in Auckland, which is densely populated.
Southern is New Zealand's largest board by area, and carries a network of rural hospitals, rural health services, and two city hospitals - including top-tier care in Dunedin.
''These figures are shocking and highlight the true extent of the problem,'' Dr Clark said.
''You need no starker evidence of why a full review of the funding model is required.
''The area of the Southern DHB is twice the size of Belgium, and it doesn't appear to be funded appropriately for the rurality that it's dealing with.''
A National Health Board official disputes the analysis, saying the figures should not be used to compare DHBs.
Health Minister Dr Jonathan Coleman declined to comment, as did SDHB commissioner Kathy Grant.
The SDHB has been chided for years about its long-running deficit, culminating in last month's dismissal of the board.
The deficit has been held up to justify health cuts, including the decision to outsource the Dunedin Hospital kitchen.
Sacked board member Dr Branko Sijnja says the board has been the ''sacrificial lamb'' for a funding system that has failed.
''What you've demonstrated there is that it's not equitable. I firmly believe that the funding is inadequate.''
Another sacked board member, Dr John Chambers, said the figures showed what many had known for a long time.
''We've got this terrible deficit that just clouds everything.
''The southern region in particular seems to have done badly out of the population-based funding formula.''
The level of political interest in Southern meant it was time to push the issue, he said.
''Somebody's got to grapple with it.''
Simon Smith, who runs an online campaign against southern health cuts, says people in the catchment are disadvantaged by the funding shortfall.
''There has been numerous requests to start a protest and we can't just organise one without a genuine reason, but I think we now have a good case right here, delivered on a plate.''
Mr Smith said the 15-year hospital kitchen deal pushed through by board members could have been avoided if the board was adequately funded.
If SDHB had as much money for each person as Canterbury DHB, it would be $57million better off in 2013-14.
The income figures include money shunted between boards, as well as their direct funding.
Some boards provide services for patients outside their area, meaning some of their revenue is not directly spent on their population, but the money helps to provide infrastructure and meet staffing requirements.
Called ''interdistrict flows'', they are a lucrative and important revenue source for boards.
Lack of patients from other areas is a problem at Southern, which has high-level services in Dunedin but too few patients using them.
Southern has tried to attract extra patients, and there are efforts under way to redirect some cardiothoracic patients, but the board's geographical position makes that difficult.
National Health Board DHB performance acting director John Hazeldine, in a statement, said making comparisons about funding for individual boards was ''complicated'' and potentially misleading.
''Comparing DHB income on a per capita basis results is an inaccurate analysis as not all sources of DHB revenue are allocated on a per capita basis,'' he said.
''Including interdistrict flow revenue unfairly adds weight to DHBs with positive net IDFs (for example Auckland, with national services such as Starship, has a positive net IDF) and vice versa for DHBs with negative net interdistrict flows.''
The ODT analysis shows Southern fares poorly against boards that do not treat many additional patients, as well as those that do.
The NHB is part of the Ministry of Health, which uses the population-based funding system to distribute billions of dollars to boards.
Asked about the West Coast, Mr Hazeldine disclosed that its DHB's funding is topped up above its official population-based funding share because of its low population.
Mr Hazeldine released a table showing Southern's population-based funding share was $2407 per person, compared with the national average of $2410.
The formula distributes money by a head count, with adjustments for age, deprivation, rurality, and other considerations.
No-one knows exactly how each area's funding is worked out, as the Ministry of Health is guarded about the formula.
SDHB planning and funding director Sandra Boardman said the board was compensated for its large size and rural aspect by adjustments in the population-based formula.
Work to redirect cardiothoracic patients to the South was continuing ''at the South Island level''.
''Southern DHB spends more on the treatment of Otago and Southland people outside the district than it receives as income for treating people from other DHBs.
''This means that the cost of tertiary [high level] services delivered by SDHB are largely paid for by SDHB.
''If there were more patient flows from other DHBs to SDHB, it would help support the cost of services,'' Mrs Boardman said.