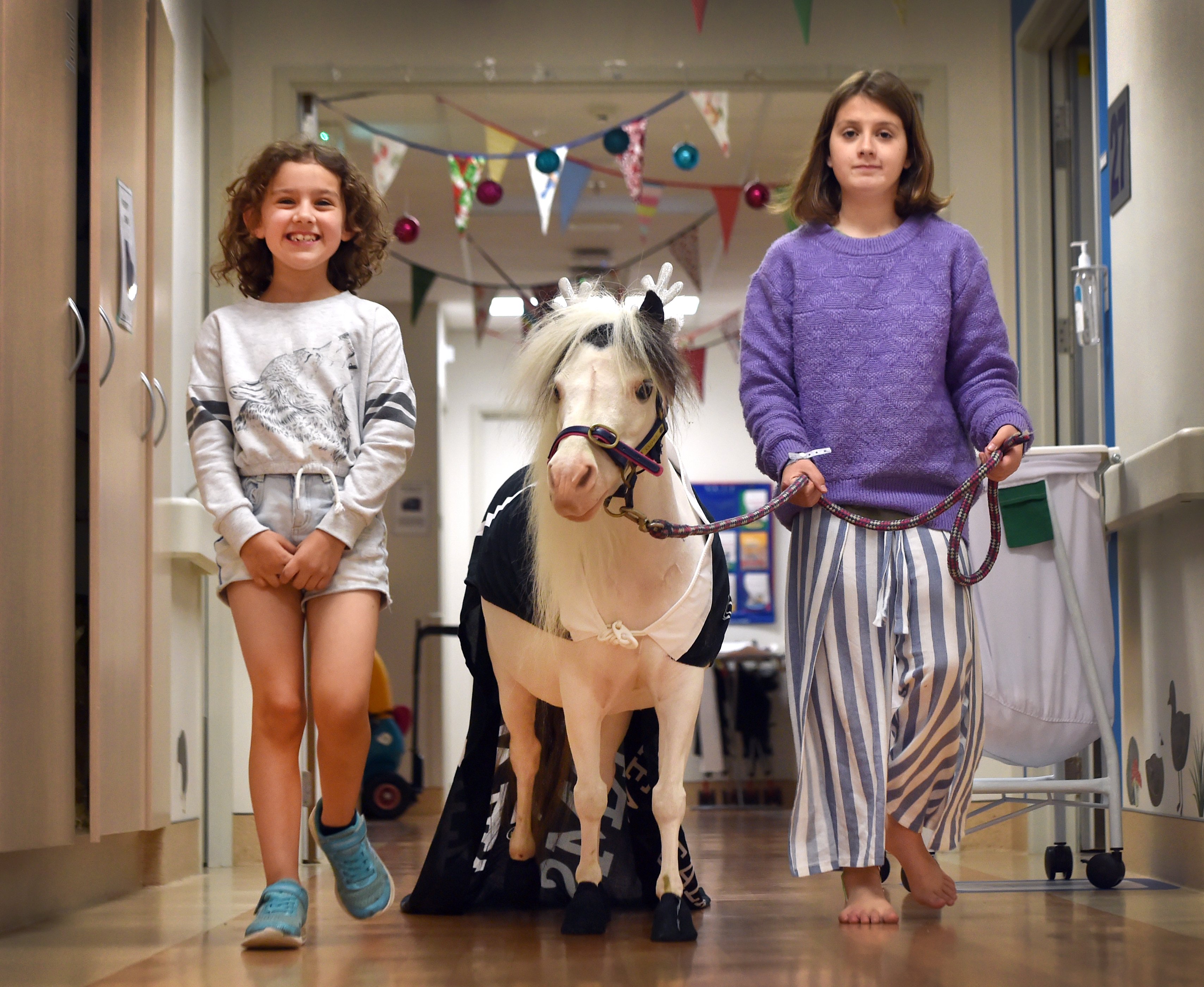 The clip clop of tiny hooves is enough to make any child's heart race at Christmas time.
It was not reindeer bringing joy to the children in Dunedin Hospital's paediatric unit yesterday morning, however, but Snowy the miniature horse.
Delighted young patients eagerly welcomed the pocket-sized pony to their ward, taking turns to give her pats and cuddles, lead her through the corridors and hand-feed her treats.
The children also received gifts of toys and board games which had been donated by Silver Fern Farms.
After five nights on the ward 9-month-old Macaulay Hodgson was set to be discharged, but that was delayed so he could see the small horse before going home.
Initial tears soon made way for wide-eyed wonder at coming face to face with Snowy.
Macaulay's mother, Laura Hodgson, said the horse's visit had been amazing.
"It's definitely leaving on a high note after a pretty rough few days."
Father Liam Hodgson said the level of care provided to the entire family by hospital staff during their Christmas stay had been unreal.
For Emma McAliece, who has been resident on the ward through the Christmas period, the equine visitor was a welcome change to the holiday hospital routine.
"It's nice to get up and do something instead of resting."
Emma's mother, Laura McAliece, said it was "awesome" to see the miniature horse on the ward, and it brightened their family's day.
Snowy's owner, Justine Pyne, said Snowy was a regular visitor to aged-care homes near her home in Balclutha, but this was the first time she had paid a visit to Dunedin Hospital.
The 7-year-old horse was very placid around people, but could have a naughty streak at home.
She had learnt how to open the back door of their home and would try to sneak in and get into the kitchen cupboard and rubbish bin.
"She's like a big dog."