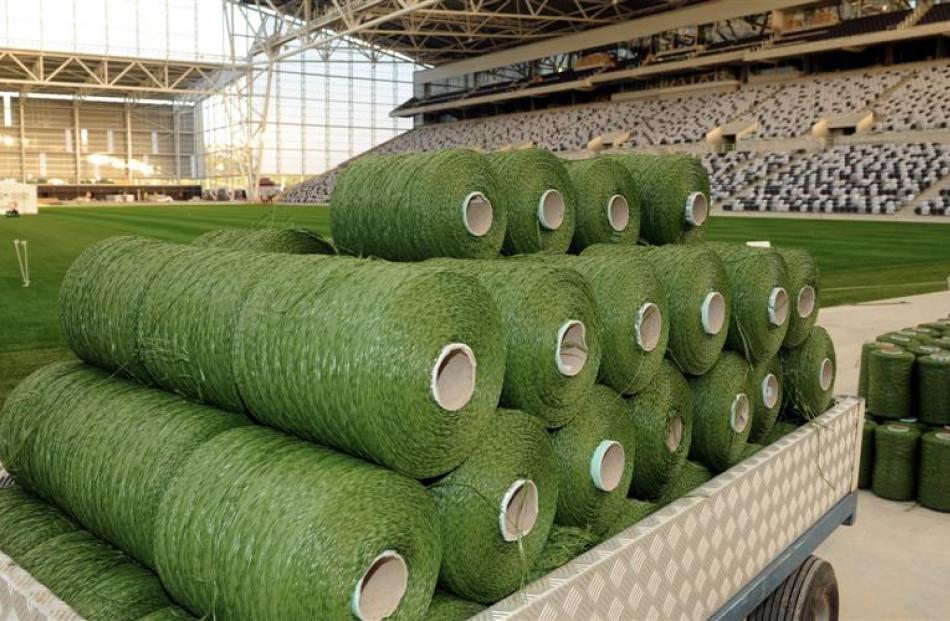 The line between sewing and sowing became seriously blurred yesterday, as natural grass and its artificial counterpart became intertwined at Dunedin's Forsyth Barr Stadium.
Two machines, which looked like a cross between a slow moving shed and a giant sewing machine, advanced across the turf at the stadium, forcing the artificial "grass" into the soil.
Funding for the Desso GrassMaster system was announced last year, with the New Zealand Community Trust providing $605,556, and the Southern Trust $50,000.
The decision was made to use the system because it meant the stadium turf could be used about three times as frequently.
Desso foreman Jan Gooiker said the product would last about 20 years under normal circumstances.
Arrow project manager Mike McCleery told media representatives invited to view the Desso machines yesterday about 350 stadiums around the world used the synthetic addition to natural turf, and between 60% and 70% of English premier football clubs.
Mr McCleery said the machines, brought to New Zealand from South Africa, began work last Friday. About 30% of the turf had been completed, and the work would be finished in about nine days.
The Desso system was installed by a computer-controlled machine with bobbins of artificial grass, injecting artificial fibres 20cm into the soil every 2cm across the pitch.
That resulted in about 20 million artificial grass fibres, enough fibre to stretch one and a half times around the world.
During the growing process, the roots of the natural grass linked with the synthetic grass fibres as they grew deeper into the ground, anchoring the turf into a stable and even field.
About 3% to 4% of the pitch would be made up of the synthetic fibres once the work was done.