A government probe into lead contamination of drinking water in Otago will examine whether the health response has been adequate or flawed.
It could also have national implications, as the rapid review will be empowered to recommend immediate changes or those that should be considered during regulatory reform.
What's covered
A rapid review for the Government will include
Analysis of water testing results
Action taken in response to lead readings
When and what information was passed on to organisations and authorities
Appropriateness and timeliness of how information was disseminated
What powers within the regulatory system were or are being used to deal with the situation
Recommendations for immediate changes or those that need to be considered as part of wider regulatory changes
Director-general of health Dr Ashley Bloomfield appointed Dr Heather Uwins-England yesterday to lead the review, assisted by Dr Jill McKenzie.
Both had extensive knowledge of drinking water regulations and public health and could look at the health response independently, Dr Bloomfield said.
Their investigation is expected to be completed in March.
Residents of the Waikouaiti, Karitane and Hawksbury communities north of Dunedin have been advised not to drink or cook with tap water since Tuesday last week after an elevated lead reading at the Waikouaiti raw water reservoir last month.
Five previous spikes at Waikouaiti and Karitane sites since July last year — including one 40 times the level of lead considered acceptable — did not prompt health authorities or the Dunedin City Council to warn the public immediately.
The possibility residents could have been chronically exposed to lead resulted in the Ministry of Health stepping in with free blood tests this week.
Some results have come in, but officials may take a week to interpret any patterns.
The source of the lead contamination has not been identified.
Dr Bloomfield said the review could affect reform of water, wastewater and stormwater regulations.
It would cover analysis of water testing results, action taken in response, when and what information was passed on to authorities, and the timeliness of information circulated.
The review would look at the powers used to deal with the situation.
It could also "provide advice on any other matters that may be relevant".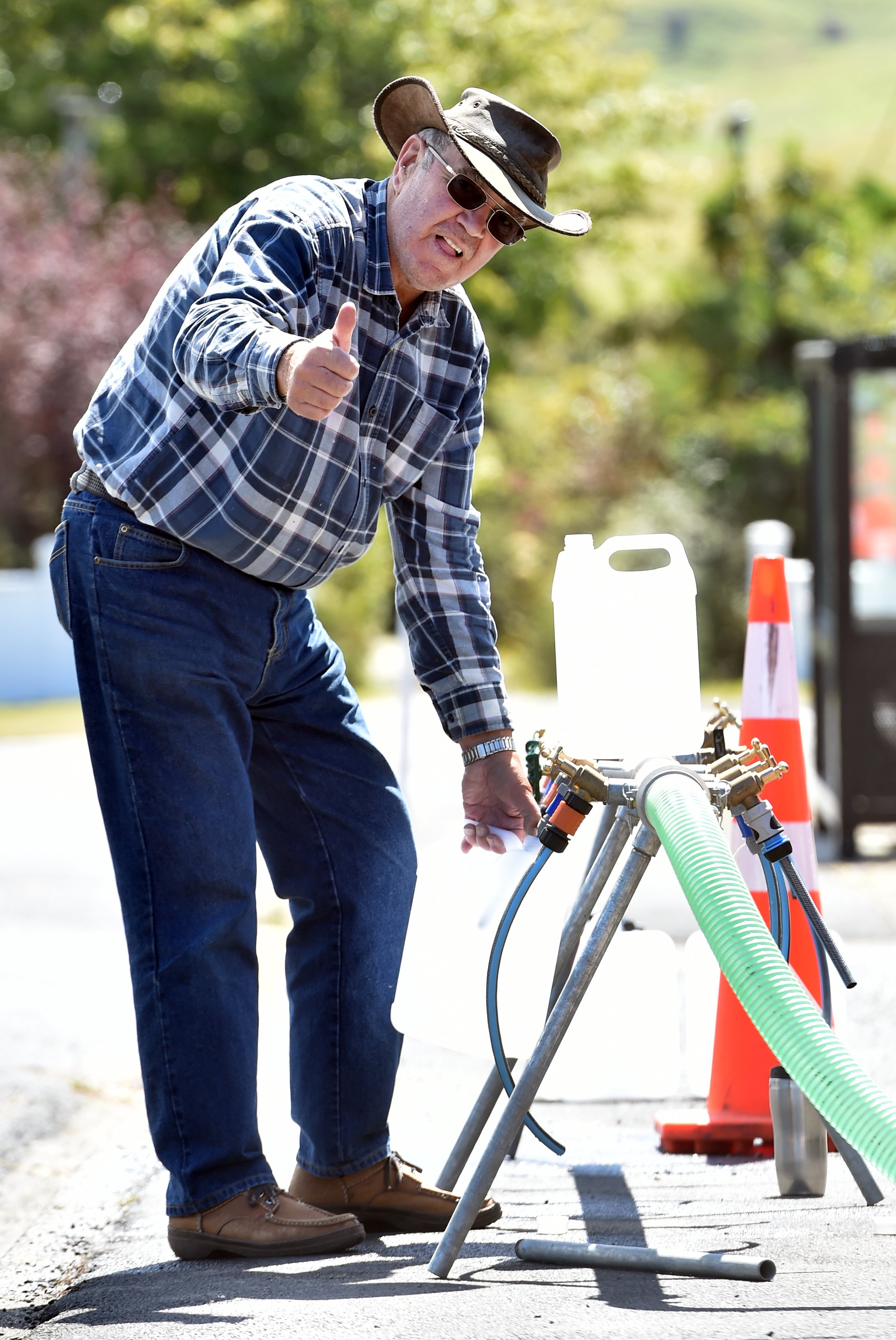 More than 1300 people had their blood tested at the East Otago Events Centre in Waikouaiti and at Karitane this week to help officials determine residents' overall exposure to lead.
Southern District Health Board medical officer of health Dr Susan Jack said blood testing through GPs for residents of the two towns and Hawksbury would remain free of charge next week.
Dr Jack said it was too soon to draw broad conclusions from this week's tests.
Most people had detectable but very low levels of lead and a small number of elevated results had come through.
Follow-up would include assessing whether people could have been exposed to other potential sources of lead, such as flaking paint.
Free testing would be provided next week for people who had lived or worked for at least one month in Waikouaiti, Karitane or Hawksbury in the past year.
It would also be available for pregnant women and formula-fed babies who had spent at least two weeks in those locations in the past year.
Blood test results have provided peace of mind to some worried residents.
Waikouaiti Coast Community Board member Sonya Billyard said she was given the all clear.
"I wasn't too worried, but it was a relief."
The highest acceptable level was 0.24umol/L, and Ms Billyard's blood test result was 0.07umol/L.
Bruce and Brenda Hayward, of Waikouaiti, were relieved after getting their results back.
"We're as good as gold," Mr Hayward said.
Mr Hayward's result was 0.11umol/L and Mrs Hayward's was 0.10umol/L.
Mary Gallagher, who had been boiling her water because it tasted "swampy" — a move that could concentrate lead — was awaiting her results.
She was encouraged by what she knew of other people's results.
The Dunedin City Council has continued to test for lead in the water.
DCC 3 Waters group manager Tom Dyer said samples were taken at seven sites daily on February 6 to 9.
Seventy-four had undetectable levels of lead and six had amounts that could be detected but not breaching the level considered acceptable.
All six came from the same sample site in Edinburgh St, where the council this week began a $6million project to replace cast-iron pipes that had lead joins.
Size has influence on lead readings 
Variation in size of people tested are among the reasons why the amount of lead in their blood will differ.
Generally, the younger and smaller a person is, the more likely a similar exposure to lead will result in a higher concentration of lead in blood, Southern District Health Board medical officer of health Dr Susan Jack has clarified.
A baby is more likely to record a higher reading.
''This is why we are particularly concerned to prevent pregnant women, babiesand children from being exposed to lead.''
However, anybody with a result below 0.24umol/L should not be concerned, she said.
Other reasons for differing lead levels included hydration at the time of the test and individual metabolic processes.