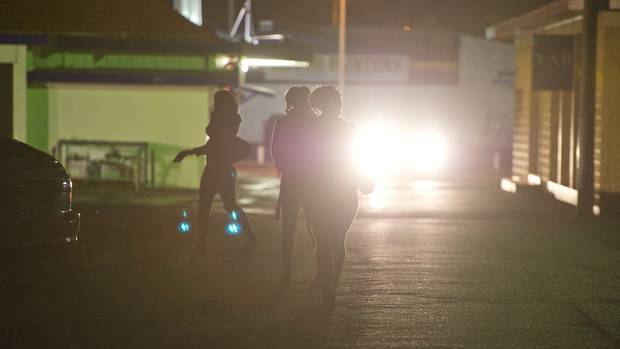 Sex workers are being asked by Immigration New Zealand officials to meet for "coffee and chat".
The text requests, according to the agency, are part of an effort to better understand the sex industry.
But INZ's approach is described by one immigration expert as "naive".
And the move has left some sex workers feeling uncomfortable, with one telling an officer to stick to emailing questions.
The woman said she received a text from the officer saying he was doing some work in regards to the sex industry.
"Hey...I was told that you would be a good contact to talk to by some of the girls I've talked to already," the INZ staffer said in the text.
"I was wondering if you could spare maybe 30 minutes...for a coffee and chat?"
The sex worker was initially suspicious and asked for the man's work email and position in INZ to verify his identity.
"I don't even have time to meet my own family and friends for coffee," she said in response.
The sex worker then asked that his questions be sent by email instead.
Massey University sociologist and immigration expert Paul Spoonley said the sex industry was ambiguous and poorly understood by government agencies.
"The use of migrant sex workers has always been subject to claims of illegality and worker exploitation," Professor Spoonley said.
"The INZ approach seems relatively low key but perhaps naïve. There is an attempt to understand but it is accompanied by a clear warning about illegality and deportation, undermining the evidence gathering exercise."
Spoonley also questioned whether this approach was an effective way to be collecting data on the sex industry.
Peter Devoy, INZ assistant general manager compliance, said the agency was taking a proactive approach to better understanding issues within the sex industry as part of its wider work on exploitation.
In the past three years, deportation liability notices were served on 38 people with temporary visas and 27 have been deported - either by force, or voluntarily.
"We recognize that temporary migrants, who breach their visa conditions by working in the New Zealand sex industry are vulnerable to exploitation by unscrupulous employers and clients," Devoy said.
"They are less like to be aware of their rights and entitlements than their New Zealand colleagues."
The agency's field intelligence officers were gathering information to better understand the particular challenges within the industry.
Devoy said he did not at this time have figures about how many sex workers had been approached or how many meetings had occurred.
He said the programme of work was still in its "early stages".
Figures for the year to August 30 show that 179 foreign nationals - male and female - were denied boarding flights or refused entry when they arrived in New Zealand because of suspicions they were intending to work in the sex industry.
The highest numbers were from Brazil (79), Taiwan (29) and Hong Kong (26).
"INZ doesn't grant either residence or temporary entry visas to a person who has provided or intends to provide commercial sexual services," Devoy said.
This was in line with the Prostitution Reform Act, which states that only New Zealand citizens and residents could legally work in the sex industry.
Besides chatting with prostitutes, Devoy said INZ officials would also be out educating employers of sex workers about their rights and legal obligations.
"The purpose of this work is to...understand the current state of migrant sex work in New Zealand," Devoy said.
"Also to identify and address exploitation with an industry-wide focus and regulate as appropriate."
Compliance officers could enter any premises, whether a brothel or private property, without a warrant to serve or execute deportation papers, according to Devoy.
"As long as there are reasonable grounds to believe that the person named in the notice or order is present and they are providing commercial sexual services."
According to the agency, the information sourced from sex workers will be used to support wider cross-Government work on combating migrant exploitation.