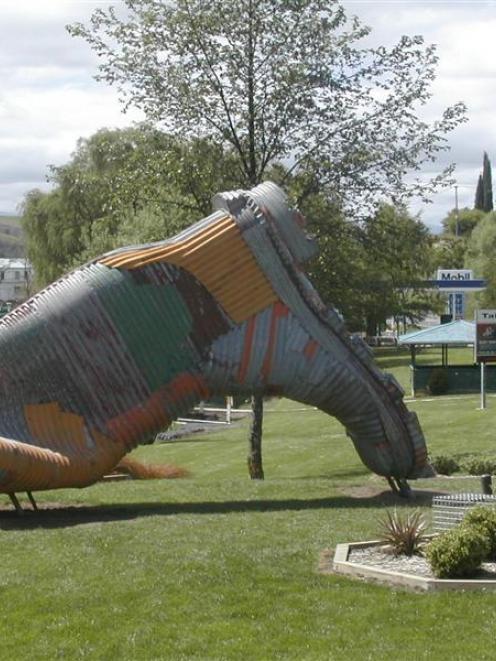 Missing National Gumboot Day in Taihape was an election campaign disappointment.
On the drive from Wellington to Taupo, the one thought on my mind was stopping in the international gumboot capital of the world, as I had seen Taihape described in print.
It was a relief to leave the capital behind at 7am and head north into what was expected to be much better weather.
Driving back through the Otaki electorate again brought home how close that race will be, as I drove past election sign after election sign.
There was a noticeable change on entering the Rangitikei electorate, soon after passing Foxton, which appeared much worse for wear than three years ago.
Shops were boarded up, the dairy was closed, probably for good, a few cars were parked on the main road and an elderly couple were walking along the footpath.
Foxton had the air of decay and desertion about it.
Turning into Sanson for breakfast, I tried engaging the manager in election conversation.
No luck.
She begrudgingly took my order for breakfast, admitted she did know the MP was Simon Power - only because he had a sign in the town - and gave me the newspaper to read while I waited.
Up the road, at Bulls, people were more interested in the election and those spoken to on the street and in shops were very strongly National voters.
They were more than sick of being told what to do by the government, although no-one could actually remember what the government had told them to do.
Someone mentioned showers but Building Minister Shane Jones had backtracked on that little gem.
Driving into Hunterville was a surprise.
It was tidy and seemed full of energy, even if there was no-one about.
I stopped a woman coming out of the local store.
Definitely National, was her reply when I asked had she made up her mind about voting.
I was not to tell her husband, though, as he was strong Labour.
I promised I would not mention it to anyone who might know her.
It was at Hunterville that I realised what was missing: election signs.
I had driven for nearly two hours and had seen only two National Party signs, one with Mr Power's name on it and the other with his leader John Key's face.
It was the same at Mangaweka.
No signs, no leaflets lying around in gutters and no sign of any candidates.
The Otago Daily Times has often commented on the size of some southern electorates, particularly Clutha-Southland and the new Waitaki electorate, which seems to take in a third of the South Island.
The West Coast-Tasman electorate stretches in length further than the distance between Auckland and Wellington.
But when driving through the electorate solidly held by National's justice spokesman, Mr Power, I was struck by how far he had to travel to try and service the electorate.
A look on the map showed that he had inherited parts in the west of the old Taupo electorate and his northern boundary on State Highway 1 is just past Waiouru.
Taihape had the look of a prosperous rural town.
There were banks on the main street, a tyre store, knick-knack shops, a reputation for "top coffee", so a sign said.
But one street back from the main street, shops had closed, some were for sale and maybe it was not quite as good as it looked on the surface.
Peter Main (28) is the third-generation farmer in his family but he has been doing contract fencing to help with income.
Taihape, which was established in 1894, and now has a population of 1800, does not have the huge dairy incomes of other rural centres.
Farmers were mostly reliant on meat and wool and some of those prices had not been good, he said.
Shopkeeper Bernie Comyn had noticed a downturn in retailing. One of her friends had been trying to sell her business for six months and had nearly signed off when the bank decided not lend to the purchaser.
People were still buying but they were spending on items of lesser value.
The menswear shop looked fully stocked.
Sales had slowed in the last three months but slumped in the last month.
Everyone was looking forward to Christmas.
Some people had not exactly lost their jobs, but their hours had been reduced.
At the cafe, a grandmother nursed her granddaughter and was enjoying the sun.
She and her family were voting for the Labour candidate, Jills Angus Burney, and yes, I had noticed her sign on the way into town.
Mr Power is not expected to have any worries in retaining the seat, even allowing for inheriting two Labour-leaning centres from Taupo.
Taking the Pulse had spent seven hours in Rangitikei, talking to voters about how they saw the future.
People there were not blaming the Government for all that was wrong, but they did want a change at the top.
A different direction was required, the garage owner, who is my age, said: "We just want a change."
National Party leader John Key continued to rule out any deal with New Zealand First and its leader Winston Peters after the election, while Prime Minister Helen Clark acknowledged she had stepped into the debate in February over billionaire Owen Glenn's possible appointment to Monaco.
She said there was nothing in the new revelations to change her opinion that she could work again with Mr Peters.
Mr Key takes the point.