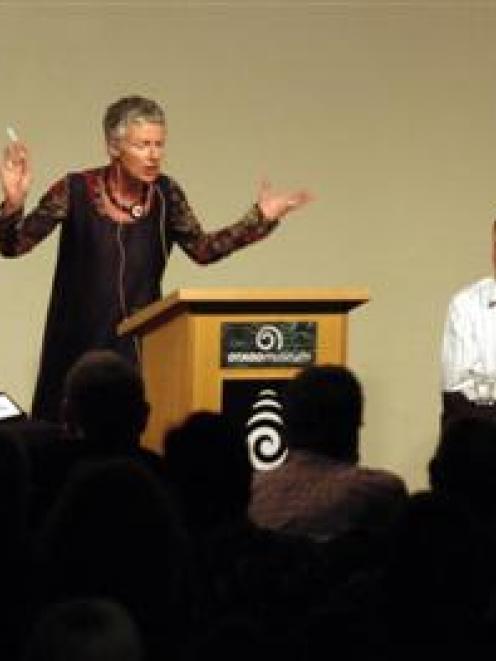 Questioning the science behind global warming could be considered a strategic blunder during an environmental debate.
But that didn't stop Act New Zealand list candidate Kathleen McCabe during yesterday's Radio New Zealand environmental debate, held before an audience of 200 at Otago Museum's Hutton Theatre in Dunedin.
As representatives from seven political parties debated the merits of the recently introduced Emissions Trading Scheme as a response to climate change, Ms McCabe - ranked 42nd on the Act list - stuck to her party's position.
"We say global warming has not been proven," she declared, drawing laughter, boos and jeers from the audience.
Progressive Party leader Jim Anderton retorted: "The rest of the world does believe the world is round and not flat."
United Future leader Peter Dunne said there was "no credible doubt" about climate change as a major issue, while National's Nick Smith described it as the country's No 1 environmental concern.
However, the consensus appeared to evaporate as the representatives - also including Labour's Trevor Mallard, Greens co-leader Russel Norman and New Zealand First's Doug Woolerton - debated issues including National's plan for a new Environmental Protection Authority, reform of the Resource Management Act 1991 and the challenges of water allocation.
Mr Anderton believed the Government's Fast Forward research fund - targeting primary sector innovation - would help tackle the country's emissions issues, while Mr Smith vowed it would be replaced by other research funding initiatives.
Mr Norman won applause with a call to end spending on motorways, arguing more money for public transport was the answer. But Mr Mallard said the gridlock that could result, without motorway improvements, would not encourage anyone to use public transport.
The debate, broadcast live on Radio New Zealand National, was the fifth and final in a series hosted around the country by moderator Kim Hill.
• Excessive deregulation could cost people their lives, Alliance Party Dunedin North candidate Victor Billot warned yesterday.
Mr Billot, who is also national communications officer for the Maritime Union of New Zealand, spoke at an election candidates meeting hosted by the Opoho Presbyterian Church last night.
Many people were still "walking around" in New Zealand today because their lives had been saved by health and safety regulations, and this should be kept in mind during claims of excessive regulation.
Opoho resident Philip Somerville chaired the discussion, which attracted about 100 people.
National candidate Michael Woodhouse said a National-led government would grow the economy, get a handle on law and order and improve education.
Dunedin North Labour MP Pete Hodgson said a Labour-led Government had helped reduce unemployment from 161,000 to 19,000, and had made significant gains in several other areas, including in improving public transport, but much more needed to be done.
The gains could be put at risk if the country's political direction changed, he warned.
Act candidate Hilary Calvert said National was unlikely to be able to govern alone, and needed support from a strong Act presence in Parliament.
Green MP Metiria Turei said the Greens had "not wasted a single moment" in achieving many gains in Parliament, including a big funding package to provide healthier and better-insulated houses.