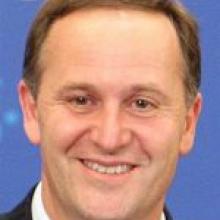 The task of forming an inclusive government yesterday became easier for Prime Minister-elect John Key after concessions from Act New Zealand and the Maori Party that they would talk to National without any set bottom-line positions.
Even Green Party co-leader Jeanette Fitzsimons has not ruled out developing a working relationship with National on issues of joint concern, such as water quality.
Mr Key (47) hopes to form a government before special votes are counted so he can travel to the Asia-Pacific Economic Co-operation (Apec) forum to represent New Zealand at the end of the month.
The deadline for special votes to be in the hands of returning officers is 10 days after election day, but they will not be formally reported until November 22 - when Apec is scheduled to begin in Lima, Peru.
Mr Key says that, under a National-led government, the economy will take centre stage and he wants to represent New Zealand at Apec, at which the world financial crisis will be discussed.
He is expected to receive briefings on the state of New Zealand's economy and finances from the Reserve Bank and Treasury in the middle of this week.
At a media conference in Auckland yesterday, Mr Key said the special votes would make little difference to the make-up of Parliament.
National agreed before the election to form a coalition with Act and United Future. The three parties won 65 seats - enough to give them a majority in a 122-seat Parliament.
National, with 59 seats, is strong enough to govern with just the Act party and its five seats. However, Mr Key will offer a Cabinet post to United Future leader Peter Dunne and intends involving the Maori Party, which would give him 70 votes on confidence and supply.
"I've always argued I want to form a long-term government and I believe we can actually form a relationship with the Maori Party which, long-term, can be very important for National," he told reporters on Saturday night. He is scheduled to meet Maori Party leaders tomorrow.
Maori Party president Whatarangi Winiata yesterday said entrenching the Maori seats would not be a bottom line for the party when negotiating any agreement.
Speaking on TVNZ's Agenda programme about the way forward, Mr Winiata said strengthening a relationship with National would be a priority and issues such as the Maori seats and the foreshore and seabed could be addressed afterward.
Act leader Rodney Hide said his party was more interested in providing New Zealand with a secure and stable government than making policy demands during coalition negotiations with the National Party.
He said he had no expectations as to what role Act would play in the formation of the next government.
Mr Hide will meet Mr Key in Wellington this morning to begin talks following a meeting of Act board members.
Mr Hide and fellow Act MP Heather Roy will return to Parliament with three new colleagues - including Sir Roger Douglas, former finance minister in the David Lange Labour government.
Mr Key has ruled out having Sir Roger, the architect of Rogernomics, sitting at the Cabinet table, something Sir Roger appeared to accept yesterday.
He now says he hopes to be in a position of influence and realises the party with the most seats has the most say.
Mr Key has tough decisions to make on who he will take into Cabinet, including what roles there will be for long-serving MPs Lockwood Smith, Maurice Williamson and Murray McCully.
All three have been Cabinet ministers and although their experience will be valuable, Mr Key will want to distance himself from Dr Smith and Mr Williamson as early as possible.
Both made errors during the election campaign that were seized on by Labour. The end result did not reflect those blunders, but Mr Key will want new personnel in his Cabinet and in the blue-ribbon seats of Rodney and Papakura before the next election.
Mr Hide could become commerce minister, responsible for a review of regulation. He will not be given law and order or energy given Act's "three strikes and you are out" policy and his call to dump the "dopey emissions trading scam [scheme]".
Maori affairs will prove a vexed position for Mr Key, who will not want to give that role to either Maori Party co-leaders Dr Pita Sharples or Tariana Turia. Georgina te Heuheu has proved valuable to Mr Key in building bridges with the Maori caucus in Parliament. He could appoint her Maori affairs minister, with Chris Finlayson as attorney-general and treaty negotiations minister.
Some National pundits are calling for new list MP Hekia Parata to be the Maori affairs minister. She is a successful businesswoman and has been a senior public servant. She consults nationally and internationally on public policy, especially in the areas of education, government services, gender and cultural equity issues.
A role for Dr Sharples could be found in Maori development and education, while Mrs Turia could be slotted into employment or social issues portfolios given her strong call for removal of the dole and for Maori to become self-sufficient rather than relying on benefits.
The support from Asian and Polynesian voters for National on Saturday will need to be recognised.
Pansy Wong, the MP for the new electorate of Botany, is likely to get ethnic affairs, with a strong push towards strengthening the Asian vote.
There is no standout candidate for Pacific Island affairs and it could go to Mr McCully, while new Maungakiekie MP Sam Peseta Lotu-Liga finds his feet after winning a former Labour stronghold.
Mr Dunne has ruled out being speaker in the new session of Parliament. He could be slotted in again as revenue minister, given his push for lower tax rates.
- Dene MacKenzie.