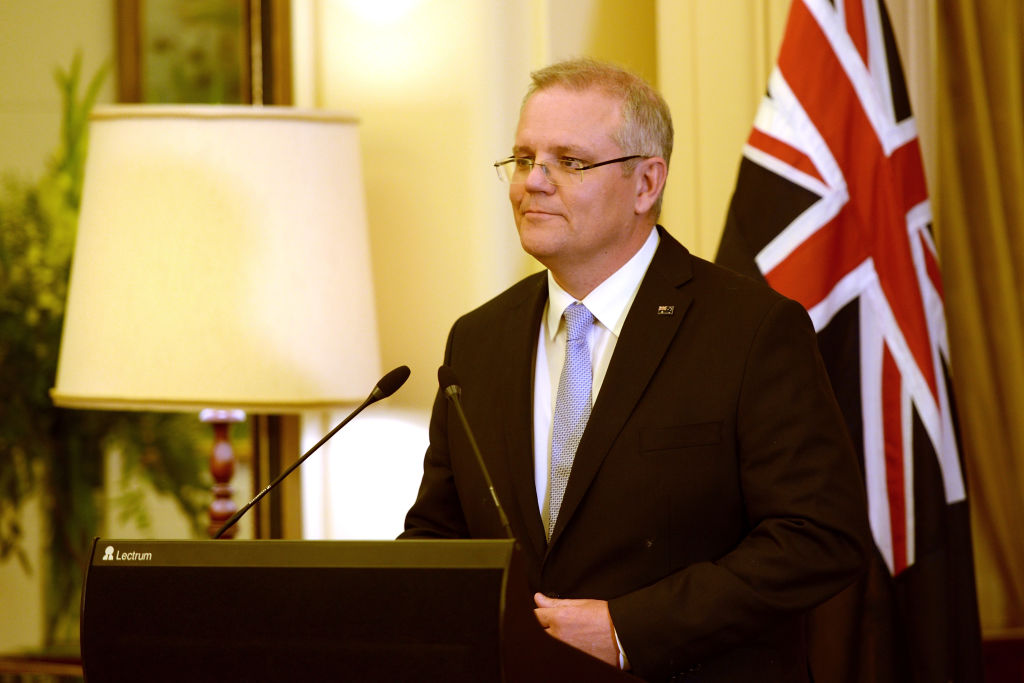 Australians' support for the Coalition government has dropped to its lowest in a decade after it dumped Malcolm Turnbull as Prime Minister and installed Scott Morrison, following a week of chaos, an opinion poll shows.
The latest Newspoll, published by The Australian newspaper, also showed opposition Labor leader Bill Shorten, who had long trailed Turnbull, is now preferred prime minister.
Morrison replaced Turnbull in a party-room vote on Friday, taking over as leader of the Liberal party after a week of political turmoil that led to the emergence of Australia's sixth prime minister in less than a decade.
The Liberal-National Coalition's primary vote dropped four points to 33%, the Newspoll showed, while the two-party-preferred split between Labor and the Coalition blew out from 51-49 in favour of Labor two weeks ago to 56-44.
Morrison must call a federal election by May 2019, but could face by-elections in two seats before that as Turnbull has said he plans to leave parliament soon and former foreign minister Julie Bishop, who stepped down on the weekend, could also quit.
Bishop announced she would move to the backbench and had not yet decided whether to contest the next election, which is due by May 2019. That decision could have serious implications for Morrison's government, which has a parliamentary majority of only one seat.
She had been foreign minister since 2013 and was replaced by former defence minister Marise Payne in the new Cabinet line-up announced by Morrison after Bishop resigned.
Bishop contested Friday's leadership vote but was eliminated in the first round, with Morrison then emerging as a surprise compromise winner over Peter Dutton, Turnbull's conservative challenger who brought the leadership crisis to a head earlier in the week.
"I will remain on the backbench as a strong voice for Western Australia," Bishop said in a statement soon after she arrived back in her home state.
BY-ELECTION CONCERN
The possibility that Bishop could leave parliament before the next election will be a major concern for Morrison, Turnbull's former treasurer, because it opens the possibility of another by-election being held for her seat.
His party will already have to contest a by-election for Turnbull's harbourside electorate in Sydney, traditionally a safe Liberal seat. Turnbull's resignation from parliament was expected in the coming week.
Morrison's new Cabinet includes former Turnbull loyalist Christopher Pyne as the new defence minister.
Dutton, whose first challenge on Tuesday sparked the crisis that ultimately toppled Turnbull, returns as home affairs minister in an apparent attempt by Morrison to rebuild unity in his badly bruised party.
However, his portfolio will no longer include immigration, a politically sensitive issue in Australia because of the hardline approach taken by successive governments against asylum seekers who attempt to arrive illegally.
That policy includes the detention of asylum-seekers on remote Pacific islands such as Nauru, a policy that has had bipartisan support but which has been harshly criticised by the United Nations and human rights groups.
Morrison had already announced his Liberal deputy Josh Frydenberg, the former energy minister, would take over as treasurer. He said Angus Taylor, a Dutton supporter, would be the new energy minister.
Senator Mathias Cormann, one of several senior ministers who had pledged their loyalty to Turnbull before turning on him, will return as finance minister in Morrison's new Cabinet.