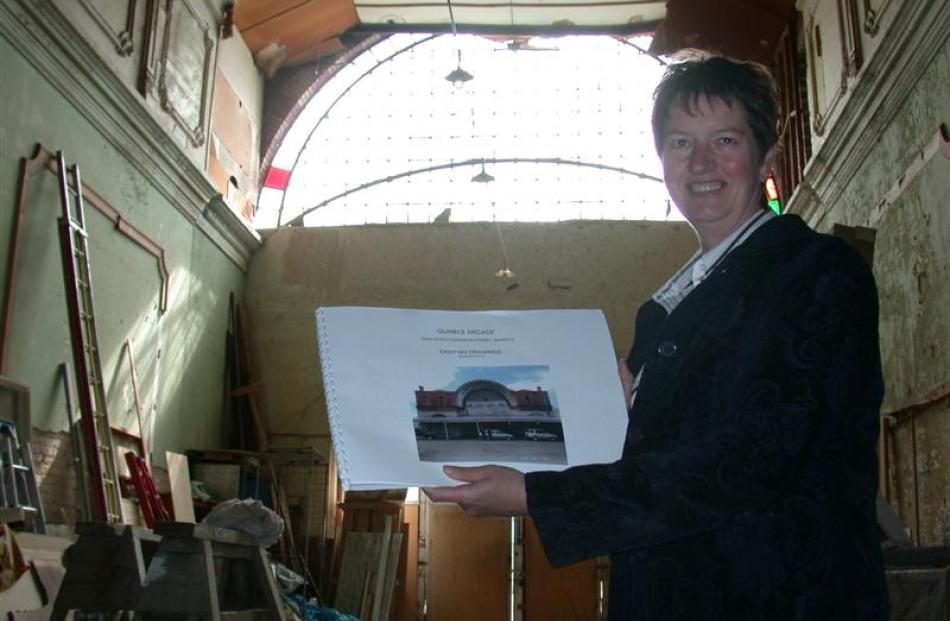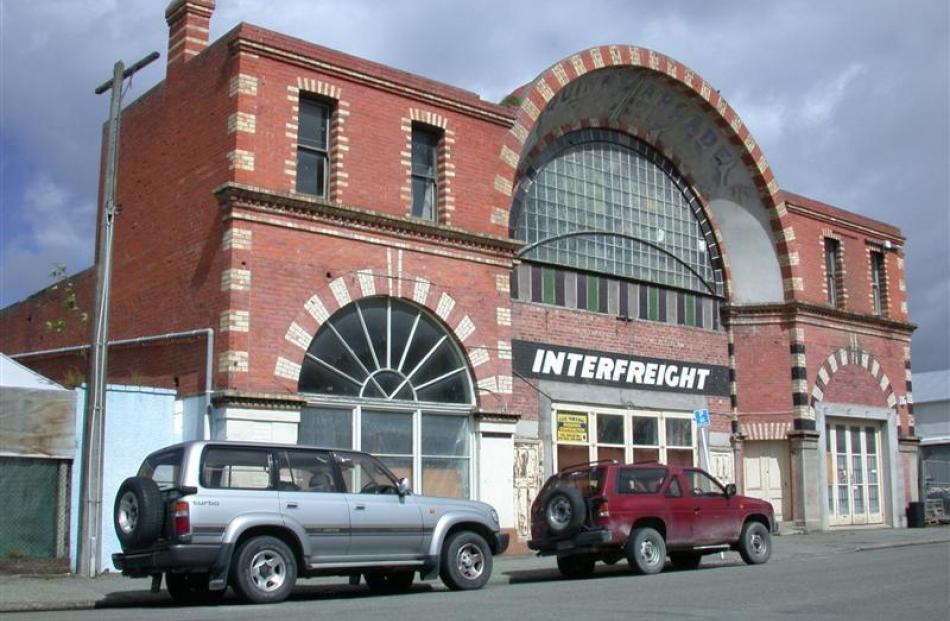 Down two side streets, Quinn's Arcade. It can be missed by those passing along the town's main street, but that is about to change, David Bruce reports.
What was believed to be New Zealand's first indoor shopping mall is now entering another stage in a plan by a Waimate group to return it to its former glory.
Pro-Ject Waimate has already spent about $120,000 buying the brick building - which stretches between Grigson and High Sts - and plans to restore and redevelop it.
The concept plan prepared for the Waimate business and economic development group envisages the arcade being redeveloped in a way that reflects its history.
The building was first a shopping arcade and then a picture theatre.
The group would also be restoring a spectacular building.
New Zealand Historic Places Trust conservation architect Jim Espie said: "The whole building would not look out of place in central Auckland and, in fact, nothing compares anywhere else in the country."
The restoration and redevelopment of Quinn's Arcade will be to create a multi-use building.
Included in the building will be retail shops. It is hoped to reflect the building's original office, function and exhibition space.
Built between 1905 and 1907, Quinn's Arcade was originally a shopping arcade with two-storeyed blocks at each end, ornate verandas, and half-moon glass windows.
In 1920 it became a picture theatre - the Arcadia - with billiards rooms, until a fire on June 29, 1955, caused so much damage movies were never again screened.
Since then it has been used for storage, and for two flats, which were created in its southern upstairs wing.
After securing ownership of the building last year, Pro-Ject Waimate commissioned Jackie Gillies and Associates to prepare a conservation and restoration concept plan for the building.
Pro-Ject Waimate co-ordinator Sheryl Frew said the next step was to move on to detailed drawings for the restoration and redevelopment of the building, along with preparing a cost for the project.
Once that was available, applications could be made to fund the project, a building fund set up and tenders called.
She hoped that could be completed within the next year. There had already been two inquiries from outside Waimate for space.
"One wanted to know how soon they could move in," Miss Frew said.
There had been offers from service clubs and individuals to help with the project on a volunteer basis.
Miss Frew acknowledged the project would not be cheap, particularly for a community the size of Waimate. But the community was excited about the prospect, and she expected that excitement to grow now a concept plan had been produced.
"A lot of people will now be able to see what can be done with the arcade and I expect that enthusiasm to grow," she said.
Already about $20,000 has been raised by the sale of bricks in the building, and with almost 300,000 used in its construction, there is scope for more.
Pro-Ject Waimate is still renting out space in the arcade, which is providing an income for basic maintenance to ensure the building does not deteriorate.
The structure of the building is still good because its original design has an inbuilt strength.
The original design means the building is not likely to suffer earthquake damage, a structural report said. But it was thought some improvements would be desirable, to meet modern standards.
Matching facades at the north and south ends are designed around a triumphal arch motif, with large central arches. Each end once had an ornate veranda, with half-moon glass panels.
The southwest, two-storeyed corner of the arcade is in need of some intensive restoring. Internally, each side originally had eight shops, with a main concourse linking both streets.
It was modified to create the theatre, which had a mezzanine dress circle balcony and upper foyer above High St. But many of the modifications only masked original features of the building, including the arched entrances into the shops.
What was added was intricate plasterwork on the walls and plaster to create a ceiling under the curved roof. The plasterwork is rare and reflects the development of plaster moulding techniques in the early 20th century.
The overall building has been described in the conservation plan as "a focus of interaction within the Waimate district and community".
The Arcadia Theatre was also a reminder of the arrival of cinemas. That heralded a huge social development.
In architectural terms, the arcade was an important part of Waimate's strikingly intact late-Victorian and Edwardian townscape.
"Few towns in New Zealand have the good fortune to retain such an unmodified historic centre and, as such, all buildings that contribute . . . are of primary importance," the plan said.
The arcade was a significant building in its own right. The brickwork and decorative ironwork contributed to this. The detail showed there was careful design in the building's construction.
It was also an important part of Waimate's history, particularly its connection with William Quinn and his Makikihi farm and brickworks.
William Quinn was a major employer in Waimate and most of the bricks in the building came from his brickworks.
The arcade's conversion to an early cinema also contributed to its significance, the plan said.
Quinn's Arcade
• Built between 1905 and 1907.
• Original owner William Quinn, Makikihi landowner and businessman, born 1828 in Northern Ireland, died July 1, 1914, at Makikihi.
• Building has 296,970 bricks from Quinn's own brickworks.
• Converted to Arcadia Theatre between 1918 to 1920.
• Fire destroyed the theatre on June 29, 1955.
• First floor converted to flats in 1964-65.
• Rest of building used for various purposes, including storage.
• Purchased 2008 by Pro-Ject Waimate.
• October, 2008, conservation and concept plan prepared.