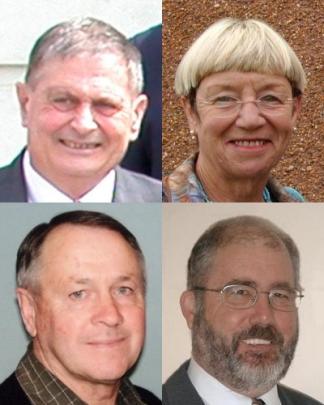 Four Waitaki District councillors who are not seeking re-election next month - including its longest-serving councillor - were farewelled on Wednesday.
The councillors were Struan Munro (Ahuriri ward), Pam Spite (Corriedale ward) and Peter Twiss and Rod Bidois (Oamaru ward).
The council, at its last scheduled meeting before the October 9 election, formally acknowledged their service by recording its appreciation for their community work and wishing them all the best in the future.
All four gave valedictory speeches, Cr Munro the most emotional after serving two terms on the former Waitaki County Council until local body amalgamation in 1989, including one term as its chairman, and six terms (18 years) from 1992 as a councillor on the Waitaki District Council.
With his voice breaking at times, Cr Munro outlined the projects of which he was most proud, both during his days on the county council and more latterly on the district council.
He originally put in a nomination to be re-elected, but "with regret" withdrew it for family reasons.
During his time as councillor for both councils he had "worn out two vehicles". His latest vehicle, a Toyota Corolla, had done 490,000km.
"During my 24 years as a councillor, I worked out I covered more than 730,000km in 24 years on council business," he said.
Cr Munro received a standing ovation from councillors and staff after his speech.
Crs Twiss served four terms on the council, Cr Spite three terms and Cr Bidois two terms.