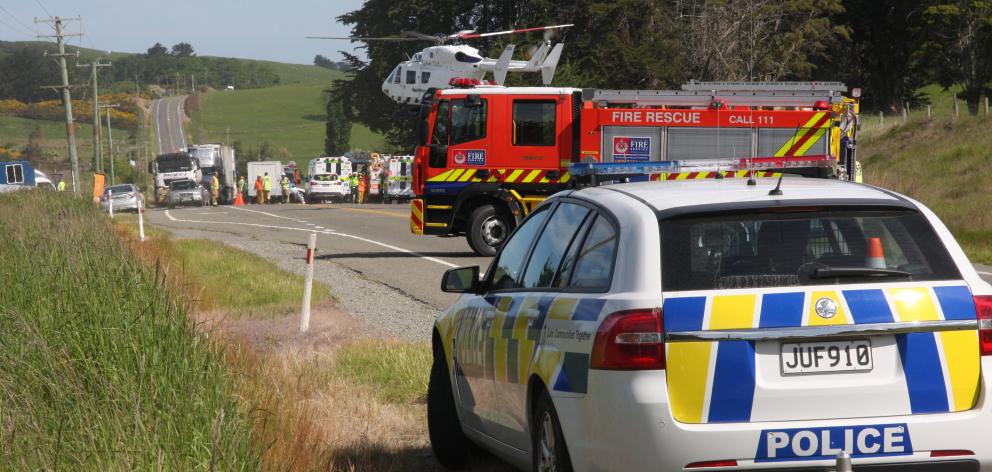 Yet another motorist has died on a notorious stretch of State Highway 1 between Moeraki and Maheno.
One person was killed in a three-car collision opposite the turn-off to tourist hot spot Moeraki Boulders, yesterday afternoon.
Police were called to the site about 3.30pm.
One person died at the scene and another with critical injuries was transported by rescue helicopter to Dunedin Hospital.
Two people with moderate injuries were taken to Oamaru Hospital.
Earlier this year, the New Zealand Transport Agency released information to the Otago Daily Times which showed eight deaths had occurred between Maheno and Moeraki since 2011.
Information provided by the agency identified 10 serious crashes in the area from 2011 to 2015.
Of these, six crashes resulted in seven deaths, and four resulted in serious injuries.
Head of Runaka o Moeraki David Higgins said the turn-off to Moeraki Boulders and the turn-off to the Moeraki township itself needed close attention from authorities.
''I'm surprised more people aren't killed.''
He said there were many examples of motorists in the area not knowing how to approach the turn-off to the boulders or the township and he believed they were using a GPS system to find the site.
However, given the approach to the turn-off and how quickly GPS reacted, he believed people were overshooting both the turn-off to the boulders and the town and performing risky road manoeuvres to correct themselves, putting their lives and the lives of others at risk.
He said placing a bigger sign further away from the locations could help drivers prepare for the turn-off, and therefore reduce the crash and death toll in the area.
Mr Higgins also suggested a bigger run off road than was currently available to allow for better entry and exit from the 100kmh State Highway 1 to the boulder park access.
Mr Higgins said the stretch of road itself had not changed in years. What was new for the area was the number of vehicles using the road.
He also said the entry point to Moeraki Boulders park had always been a ''bit difficult'' to get in and out of.
''People are travelling so fast.''
An NZTA spokeswoman would not comment on the crash.
''We don't respond normally until we get the police report,'' she said.
Police at the scene declined to comment.
Deadly toll
Crashes on SH1 near Moeraki in the past two years:
2015
February 21: Oamaru girl Ruby Marris (5) dies in a crash at Moeraki, and parents and two sisters sustain injuries. Chinese tourist Jing Cao sentenced to 18 months jail for causing crash.
July 3: Oamaru woman Ema McGeown (27) dies in a single-car crash north of Moeraki.
October: Three minor crashes in the space of four weeks along the Moeraki-Katiki stretch of SH1. No serious injuries.
2016
February 25: Invercargill motorcyclist John Horn dies after losing control in the rain, crossing the centre line and hitting an oncoming southbound car near Hampden.
August 5: Trailer float rolls near Moeraki. Horse put down after breaking back.
August 13: Dunedin motorcyclist Riley Baker (26) suffers critical injuries in a crash with a car near the Shag Point turnoff between Palmerston and Moeraki. Dies two days later. Chinese tourist Limin Ma sentenced to community work for causing crash.
October 19: Male driver crashes into a bank near Moeraki Boulders turnoff. No serious injuries.
November 22: One dead, three injured in multi-car crash