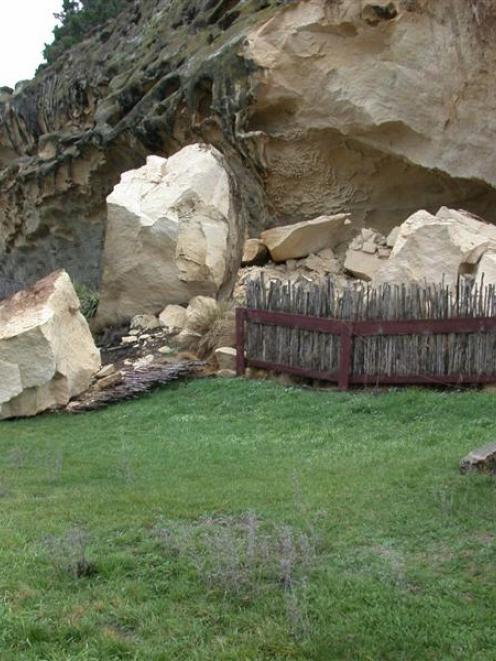 The Takiroa Maori rock art site near Duntroon has been closed for 17 months, since torrential rain led to the collapse of the limestone cliff above it.
The heavy rain in May last year, which caused widespread flooding in North Otago, also brought down vast amounts of limestone in varying quantities, making the site unsafe for the public.
In early September, Ngai Tahu Maori Rock Art Trust curator Amanda Symon said she hoped work would be completed by the middle of that month in time for Rugby World Cup tourists to visit the site.
Recently, she said some rock-scaling work, which involves workers abseiling to remove loose pieces of limestone, was still to be done.
The trust commissioned geotechnical reports on the safety of the cliff face and these had been completed at a "reasonably significant" cost, she said.
They showed the rock face was quite stable, but it needed to be monitored.
Mrs Symon was unable to supply the total cost of the work because contractors had yet to confirm their fee for completing the rock scaling, but she said all the money had been raised and most of it spent.
Earlier estimates put the total bill at about $40,000. The geotechnical reports had concluded the site was "manageable" in terms of safety, and new signs, fences and paths had been made to minimise risk to the public.
No indication had been given on when the site might reopen.
A lot of work had been done to improve the site about 18 months before the rock face collapsed.
Mrs Symon said the site was one of about 580, from Fiordland to Kaikoura, in the South Island; with the high concentration around North Otago and South Canterbury because limestone was the favoured canvas of early Maori artists.
Most sites are on private land, many of which are farms, making the Takiroa site integral in allowing people to experience Maori rock art.
Mrs Symon described the continued closure of the site as "annoying", but emphasised the safety of the viewing public was the greatest concern.