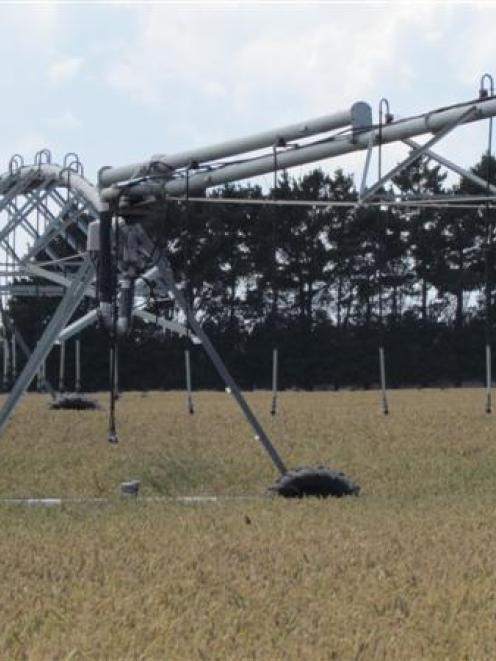 Farmers using North Otago irrigation schemes are well placed to work through any future dry spells this year, after some parts of the region received almost double the usual amount of rain last month.
In December, 114mm was recorded at Kauru, 22% above average for the month, Waikoura, near Duntroon, received 111.2mm, 91% above average, while the 111.2mm recorded in Oamaru was 102% above average.
Waitaki Irrigators Collective policy manager Elizabeth Soal said the wet start to the summer had resulted in irrigation schemes across North Otago and lower South Canterbury reporting a reduced demand for water.
On the north side of the Waitaki River, the Morven Glenavy Ikawai Irrigation Company reported there had been no water use between Christmas and January 12, andsome farmers had not irrigated since the start of December.
On the Waitaki Plains, although the Lower Waitaki Irrigation Company reported demand for the entire irrigation season to date had been comparable with the corresponding period last year, the scheme had operated at ''residual levels'' for about two weeks over the Christmas period, with no farmers irrigating.
At present, the scheme was operating at 65% of capacity.
The North Otago Irrigation Company reported that demand during
December was down ''considerably'', with water use at about 68% of last year's use.s Soal said irrigation demand also been less further up the Waitaki Valley, where most irrigators had not irrigated since before Christmas.
''Overall, we have seen significantly reduced demand for water due to rainfall. This demonstrates that farmers are irrigating efficiently, based on need - only when there is a soil deficit.''
She said the reduced demand and efficient use of irrigation would have future benefits for those scheme and individual irrigators who had conditions on their water permits (resource consents) that capped the volume of water that could be used in an irrigation season. ''It will give them more flexibility to use water as required if soil conditions were to dry out significantly later in the season.''
That would be particularly beneficial in late summer and early autumn, she said.