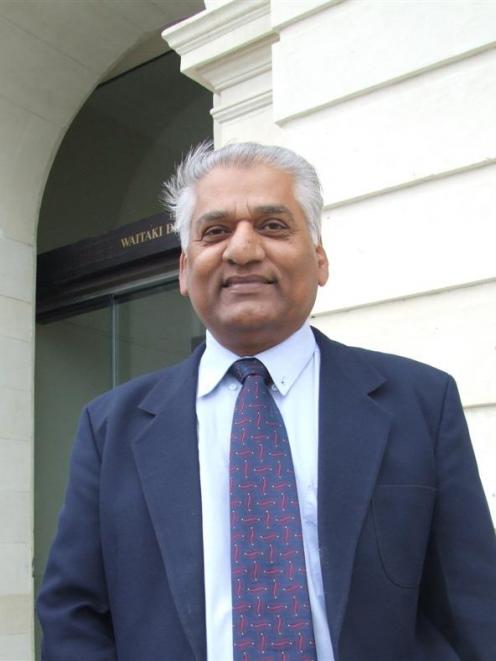 After a career in planning in local government spanning just over 35 years, Jack Chandra is calling it quits.
Mr Chandra (65), who retires at the end of this month, spent 21 years in the planning department at the Dunedin City Council and the past 14 and a-half years at the Waitaki District Council.
Brought up in Fiji, he shifted to New Zealand to study surveying at the University of Otago.
Nobody from his wider family had ever been to university, but it was his ambition.
After leaving secondary school in Fiji, he had worked as a school teacher for a year to get enough money.
After graduating from university, he returned to Fiji and worked in town planning for a year before taking a job as a surveyor in the North Island for three years.
He always wanted a career in planning and, after moving south, studied part-time to obtain his planning qualification in 1986.
During Mr Chandra's long career in planning, he has been involved in some big projects. Project Aqua - a proposed $1.2 billion hydro-power development on the lower Waitaki River later dropped by Meridian Energy - was the largest.
At the Waitaki District Council, there was a small planning department which dealt with a lot of work, he said.
During his time in North Otago, he had seen the district change from being "completely static" to enjoying slow but sustained growth.
"As a result, you can see changes for the better in terms of economic prosperity."
Mr Chandra and his wife, Rabina, who is an accountant, plan to move north to a warmer climate. With a variety of interests, he expects to be kept busy in his retirement.
A keen angler who enjoys salmon, trout and sea fishing, he is a life member of the Otago branch of the New Zealand Salmon Anglers Association.
Mr Chandra is also president of the Waitaki Riparian Enhancement Society, an organisation set up to establish a salmon hatchery near Bells Pond. He will continue his involvement with that group until he leaves the district.
It should definitely be established by next year and the group was trying its best to get it off the ground by the middle of this year, he said.
Consent applications were being prepared and funding was also required.
Mr Chandra is a foundation member of the Waitaki Multi Cultural Council, he has been involved with the Waitaki Woodturners Guild and recently started playing golf again.