The corsets were tight, the beards bushy and romanticism all around at the Oamaru Victorian Heritage Celebrations over the weekend.
The thousands of people who poured into the historic precinct yesterday for the Network Waitaki Fete were treated to a colourful spectacle of magicians, stilt walkers, fencers, street performers and all manner of Victorian endeavours, including face-pulling, moustache-growing, stone-sawing, pipe-smoking and whistling.
Fete organiser Faye Ormandy was happy with the attendance - noting that cars were parked all the way to the top of Tyne St - but had no way of establishing just how big the crowd was.
"It feels like more than the 4500 last year but it's hard to tell," she said.
She described the variety of about 130 stalls as "wonderful", and believed the festival had lived up to its usual high standard.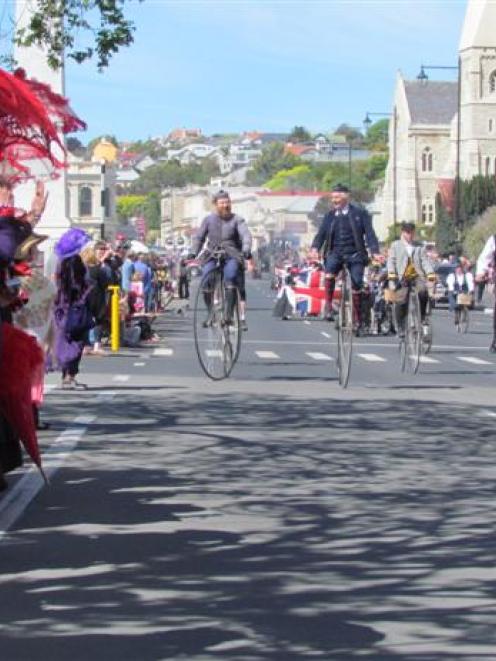 "People say to me that this is the best festival they go to.
"It really puts Oamaru on the map as far as festivals go."
Particularly satisfying was the way people had entered into the spirit of the weekend, she said.
"What I love is just how everyone gets into it.
"The fact that so many people are in costume is fantastic."
The Honey and Spice Artisan and Soap Studio was named best stall at the fete, the Oamaru Girl Guides and Rangers' stall was awarded best youth enterprise and Stephanie Bigwall won best-dressed stall holder.
Of the performers, Dunedin musician Jonathan Usher and children's entertainer Craig Smith drew large crowds, while the stilt-walkers also proved popular.
The Oamaru Mail Grand Street Parade and the 17th National Penny Farthing and Veteran Cycle Championship were also both well supported on Saturday.
Crowds lined Tyne, Itchen and Thames streets in the morning to watch horses and carts, vintage cars, steam engines, penny-farthings and a double-decker bus pass by with hundreds parading in various groups.
Christchurch man John Davey, who used a penny-farthing to navigate cracked footpaths in the garden city, dominated the early penny-farthing races on Saturday.
He won the slalom, slow race and sprint races, but only managed third in the National Penny Farthing Open, won by Mitchell Fox (13), of Oamaru.