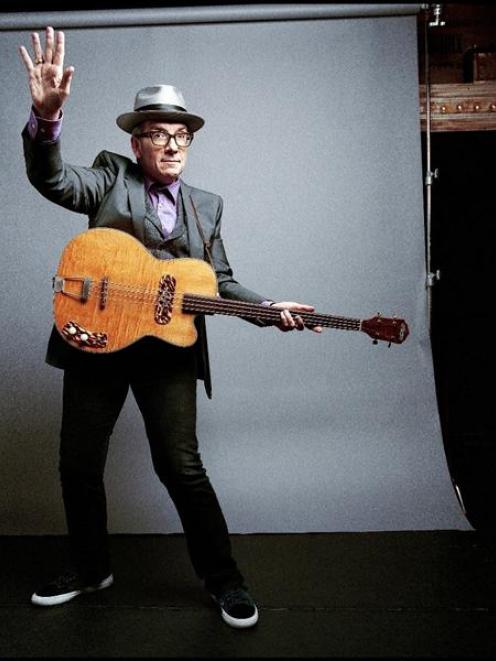 He might not have been to Queenstown before, but Elvis Costello has heard a lot about the town.
''They tell me it's great'', the English-born, Vancouver-based singer-songwriter said via phone from Melbourne last week before he and his band The Imposters packed their bags for their performance at the Queenstown Blues And Roots Festival on Saturday.
''I like making a debut somewhere after 37 years in the business.''
Costello began working as a professional musician shortly after the release of his first album, My Aim Is True, in 1977.
He has made more than 30 studio records, three live albums and numerous guest appearances on stage, studio and screen as well as working as a record producer, bit-part actor and composing music for television drama and dance performance.
He has toured the world with The Attractions, The Imposters and pianist Steve Nieve, performing with symphony and jazz orchestras as well as solo.
His catalogue of songs includes collaborations with Paul McCartney, Allen Toussaint and Burt Bacharach, with whom he won a Grammy for I Still Have That Other Girl from their 1998 collaboration, Painted From Memory.
Elvis Costello and The Attractions were inducted into the Rock and Roll Hall of Fame in 2003.
In the same year, he married Canadian pianist-singer Diana Krall (the couple have 7-year-old twin boys).
Costello (59), one of the headline acts at the festival, said his set-list was likely to include many of his best-known tunes, ''because you are trying to make a connection with a whole field full of people''.
Some of those songs included early singles Watching The Detectives, Oliver's Army and (I Don't Want To Go To) Chelsea as well as later tracks, such as 1989's Veronica, co-written with McCartney.
''It is a strange thing to have lived on your wits for 40 years, which is what I have done,'' Costello said.
''You can go into a room with four guys and just start to play and create something brilliant. But you go and do it another time in your life, with the same people, and it will sound quite different.''
Costello was referring to drummer Pete Thomas and keyboardist Steve Nieve, both of whom had often been by his side, on stage and in the studio, since his debut album.
Back then they were The Attractions; since 2001, along with bass player David Faragher, they've been The Imposters.
''We are not the people we started out as. Why would we be? You would hope to take advantage of the fact you've had all these experiences.
''The great thing is we are not trying to find the easy solutions . . . there is a playfulness that makes it a pleasure.''
- Shan Gilchrist
---
Festival Programme
Schedule for the Queenstown Blues & Roots Festival, to be held at the Queenstown Events Centre on Saturday:
10.30am: Gates open
11am: Busking competition winner
11.30am: King Leo Blues Band
1pm: The Johnnys
2.30pm: Fly My Pretties
4.30pm: Elvis Costello & the Imposters
7pm: The Doobie Brothers
9pm: The Black Seeds
10.30pm: Finish
---