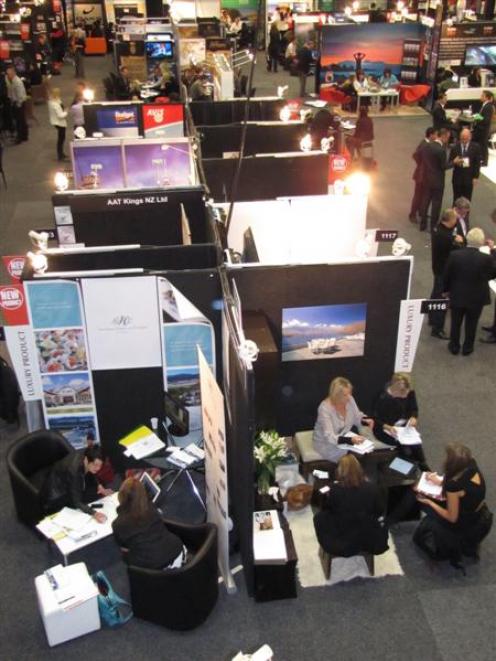 Trenz 2012 in Queenstown pumped more than $2 million into the Southern Lakes economy and will generate an estimated $149 million in tourism business for New Zealand, the Tourism Industry Association says.
Delegates told the organising association the international travel trade expo was one of the best Trenz ever, 99% of international buyers and 98% of New Zealand exhibitors rating the event as either "very successful" or "successful".
A survey of the domestic operators who attended the three-day event, based at the Queenstown Events Centre, showed they conservatively estimated business worth $149 million would result from the event. A total of 12% of exhibitors expected to generate more than $100,000 in turnover as a result of attending.
Buyers said they expected to increase total client numbers by almost 10,500 as a result of attending, a 4.5% increase on the previous year's total. They commonly identified four to five new products or suppliers of interest.
The association said Trenz brought immediate benefits to the host region. Delegates spent about 2800 nights in the Southern Lakes region, staying about five nights each.
Buyers spent an average of $1263 each and exhibitors an average of $2059. It was thought delegates collectively spent more than $1 million on their travel costs.
The contribution of Trenz to the host region was $2.34 million, based on the total spent by organisers and delegates at Southern Lakes businesses.
Delegates reinforced the importance of Trenz, 80% of buyers and 72% of exhibitors saying participating in the showcase was more important than other purchasing and marketing activities they undertook.
Association chief executive Martin Sneddon said the survey findings were "excellent results" for event.
"It's fantastic to see that delegates continue to rate Trenz as one of the most important marketing activities they undertake."
Southern Lakes chairman Jeff Staniland said the region had been "extremely fortunate" to host Trenz for the past two years.
"We at Southern Lakes would like to thank [the association] for both bringing Trenz to our part of the world and for working with us to deliver such a great event."