Two pre-school children were among a family from overseas who were all injured by a falling tree in Queenstown this afternoon, police have confirmed.
Five people were sitting underneath the tree on the riverbank near Shotover Jet base at Arthurs Point Rd when it fell about 1pm, the company said.
A St John spokesperson said two people were critically injured and another had suffered serious injuries.
Two others had moderate and minor injuries.
Detective Senior Sergeant Malcolm Inglis confirmed the injured included a family of four, including two preschoolers, from overseas, RNZ reports.
However, their ages and nationality had yet to be confirmed, he said. Stuff reports that the two children are brother and sister.
Det Snr Sgt Inglis police had left the scene but were investigating the cause of the tree's collapse.
One of the critically injured patients was airlifted to Dunedin Hospital, while the other four were taken to Lakes District Hospital, a St John spokesman said.
Shotover Jet earlier issued an alert on its website saying that it is closed for the rest of the day.
A person at the scene has described it as "absolute chaos".
The man said three fire trucks, many police offices and a doctor were present.
He said a tree had come down near the building on a grassy area. He estimated it was at least 15 metres tall.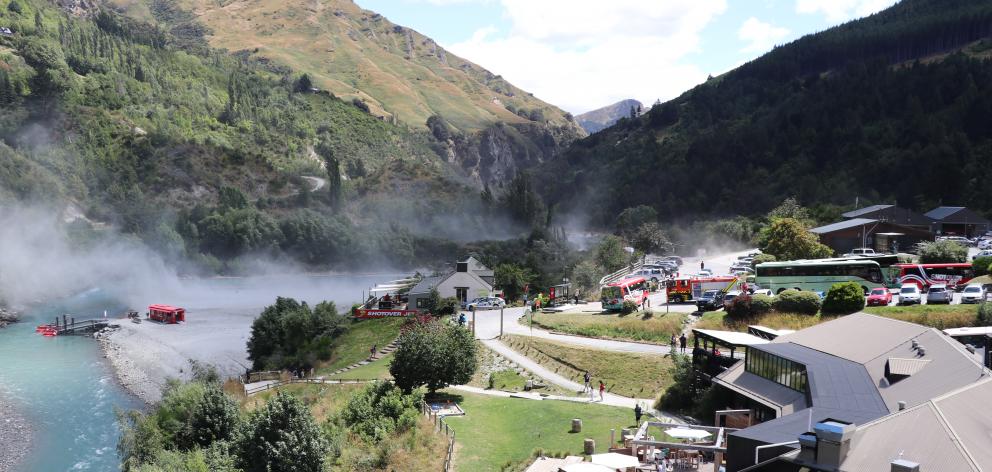 Ngāi Tahu Tourism, which owns Shotover Jet, confirmed a tree had fallen on the bank of the Shotover River.
"Five people who were sitting under the tree have been injured."
"The wellbeing of individuals is paramount and our focus is on supporting them, their whānau and our team."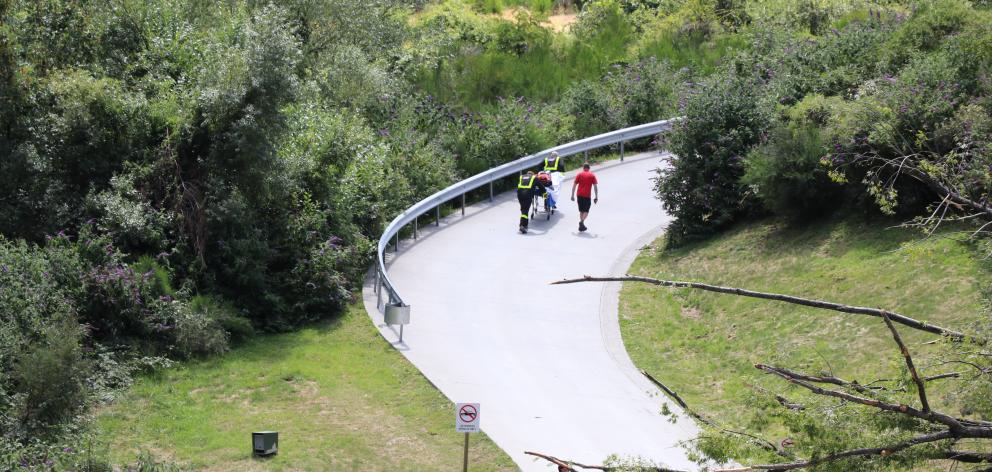 A reporter at the scene said the tree, which was below the main base, had fallen over with is roots ripped out.
There were park benches below the tree and it had fallen directly on at least one of them.
A reporter at the scene said it was "really windy" and gusts were blowing up dust across the site.
"You can barely stand up when a gust comes. You are pretty much cowering to the ground," he said.
Staff at the base were visibly stressed.
Det Snr Sgt Inglis said police were gathering evidence and investigating.
The large, old willow tree gave up in the strong winds, he said, collapsing where a family were watching the Shotover jets leaving.
"They've had no chance to get out of the way of the falling tree," he said.
"It was the wrong place, unfortunately at the wrong time, and it was a tree that has been there for a long time."
Det Snr Sgt Inglis praised the response of Shotover Jet staff and bystanders.
"Obviously there was a large, heavy tree lying on top of the family and to extract them was not easy.
"They did a great job of getting the tree up and off of the family and administrating medical assistance while they waiting for ambulance to arrive.
"They all did a great job in reacting to the accident," he said.
Det Snr Sgt Inglis said winds were strong today - and people need to take extra care in the area.
The MetService has issued a severe weather watch for the Southern Lakes area, saying westerly winds could rise to severe gale in exposed places.
A WorkSafe spokeswoman said they had been notified but the incident did not fall within their jurisdiction.
A Department of Conservation spokesperson said the tree was on conservation land, in an area subject to a commercial lease.
"We are currently determining who is responsible for maintenance of trees in this location. In the meantime, our thoughts are with those affected by this accident."
 - additional reporting by RNZ/NZME