Queenstown needs to bypass the Government and find its own solutions to the town's chronic shortage of affordable housing, a local councillor says.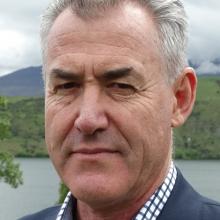 A Mountain Scene analysis of ownership at the town's first special housing area, Bridesdale Farm, next to Lake Hayes Estate, reveals fewer than 30%  of owners are first-home buyers or do not own property elsewhere.
Building companies, investors and speculators own 41 of the 135 titles searched by Mountain Scene. 
One local builder, Andrew Campbell owns nine, which have been sold to clients for home and land packages.
The Government signed a housing accord with the Queenstown Lakes District Council in October 2014 to "increase housing supply and improve housing affordability" through the introduction of red tape-cutting special housing areas.
But since then, house price inflation has been running at more than $2600 a week, going from a median house price of $561,500 to $916,000 in May.
Local councillor John MacDonald, who chairs the mayoral housing taskforce established in April, said the revelations about Bridesdale ownership reinforced the need for the town to do something.
"The key workers we need in this town, the people who keep the town running, are being squeezed out, and that's why we've got the taskforce together to try to find some ways forward."
He said  the Government did not properly understand the market forces in Queenstown.
"Imposing Auckland solutions on areas like this just doesn't work. We're going to have to come up with some local understandings and some local solutions."
Building and Construction Minister Nick Smith called for patience.
"What we know is that if we keep the foot on the accelerator of growing supply, you'll get supply and demand back in balance and that is when you'll get housing prices stabilising."
However he warns that, for Queenstown, that might take "three or four years".
Dr Smith blamed Queenstown's situation on high section costs, adding the council should "free up the additional land".
The Government is interested in owning the Wakatipu High School site, on which it would regulate "the type of houses and pricing that would be sold from that site."
Labour's housing spokesman Phil Twyford says a Labour-led Government would  do things differently.
"That may mean the Government owning a stake and owning the property or it may mean working with private sector partners or the council."
Ministry of Business Innovation and Employment data put mean Queenstown rents at $581 a week - higher than the mean $557 figure charged by landlords in Auckland.
Queenstown was also the least affordable place to buy a house.
The median house price of $880,000 in May is now 12.21 times the median household income of $72,098, according to Interest.co.nz.
Just two years ago that figure was 8.76.