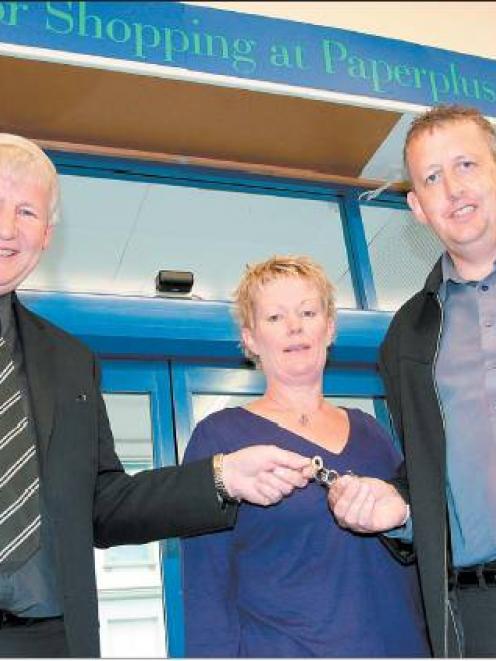 Paper Plus Gore owner David Preston called it a day and handed the reins to a homegrown couple who are delighted to be returning to Gore after 23 years away.
Mr Preston has been the store's owner for 21 years. He became involved in the company in 1985 by accident.
''Although I've always loved books I hadn't planned to be in this business,'' Mr Preston said.
''I originally trained as a commercial pilot, but my graduation coincided with the first fuel crisis and there were no jobs, so I went into the book trade with the plan of being there for 18 months and here I am.
''I've had a great experience with the company, and leave with so many wonderful memories.''
Mr Preston is moving on from Gore and the retail industry to embark on a new business venture in Christchurch.
Taking over Mr Preston's franchise are Doug and Denise Grant, who are thrilled to be returning to the town where they were both born and raised after many years overseas.
They said Gore was where their hearts were and the best place they had lived, with a more relaxed lifestyle and friendlier people than they had found anywhere else.
The Grants said the chance to buy the business was the perfect opportunity to return to Gore, and the store alone was a huge drawcard because of its success under Mr Preston's ownership and the strength of the Paper Plus brand.
They planned to run the store much the same as Mr Preston had and said they were looking forward to working with the existing staff, who were highly skilled and experienced.
The move to retail would be a refreshing change. They previously owned a Hokitika cafe, which they operated seven days a week for five years.
The couple said they were looking forward to the comparatively relaxed pace of a six-day-a-week retail venture, and wished Mr Preston the very best for his future plans.
Mr and Mrs Grant took over the business yesterday.