Wanaka turned on the sunshine yesterday as the nation's Winter Olympians, Winter Paralympians, and other top snow sports athletes paraded through town in a celebration of their homecoming from the northern hemisphere.
At first, the athletes hung back in shyness and appeared reluctant to gather behind the New Zealand flag.
However, they were soon swamped by the public and the parade turned into a large, joyful procession for several hundred townsfolk, family and friends.
The short 300m journey from Pembroke Park to the Lake Wanaka Centre took a while as the athletes frequently paused to satisfy requests for photos and chats.
Beijing snowboard gold and silver medallist Zoi Sadowski-Synnott has only recently returned to New Zealand and has been lying low in Wanaka for five days, recovering from a non-Covid type of flu.
The illness had prevented her from attending last Wednesday's Central Otago Sports Awards, where she was awarded the Bruce Grant Memorial Trophy for the district's overall sports person of the year.
Sadowski-Synnott said her six-month northern stint was the longest she had been away from New Zealand, so it felt "pretty special" to be home.
"Winning gold and silver at Beijing was pretty special. Even looking back on it now, it was my biggest dream. Accomplishing it is still the most insane thing that's happened to me," she said.
Sadowski-Synnott was planning to make the most of this season and take time to "decompress" from the past six months.
Her next big goal was to compete at the X Games in Aspen in January, but for now she had no major plans other than training.
"Outside snowboarding I will try to do as much surfing as possible and make the most of being a 21-year-old. I will try to go somewhere warm and make the most of borders opening up," she said.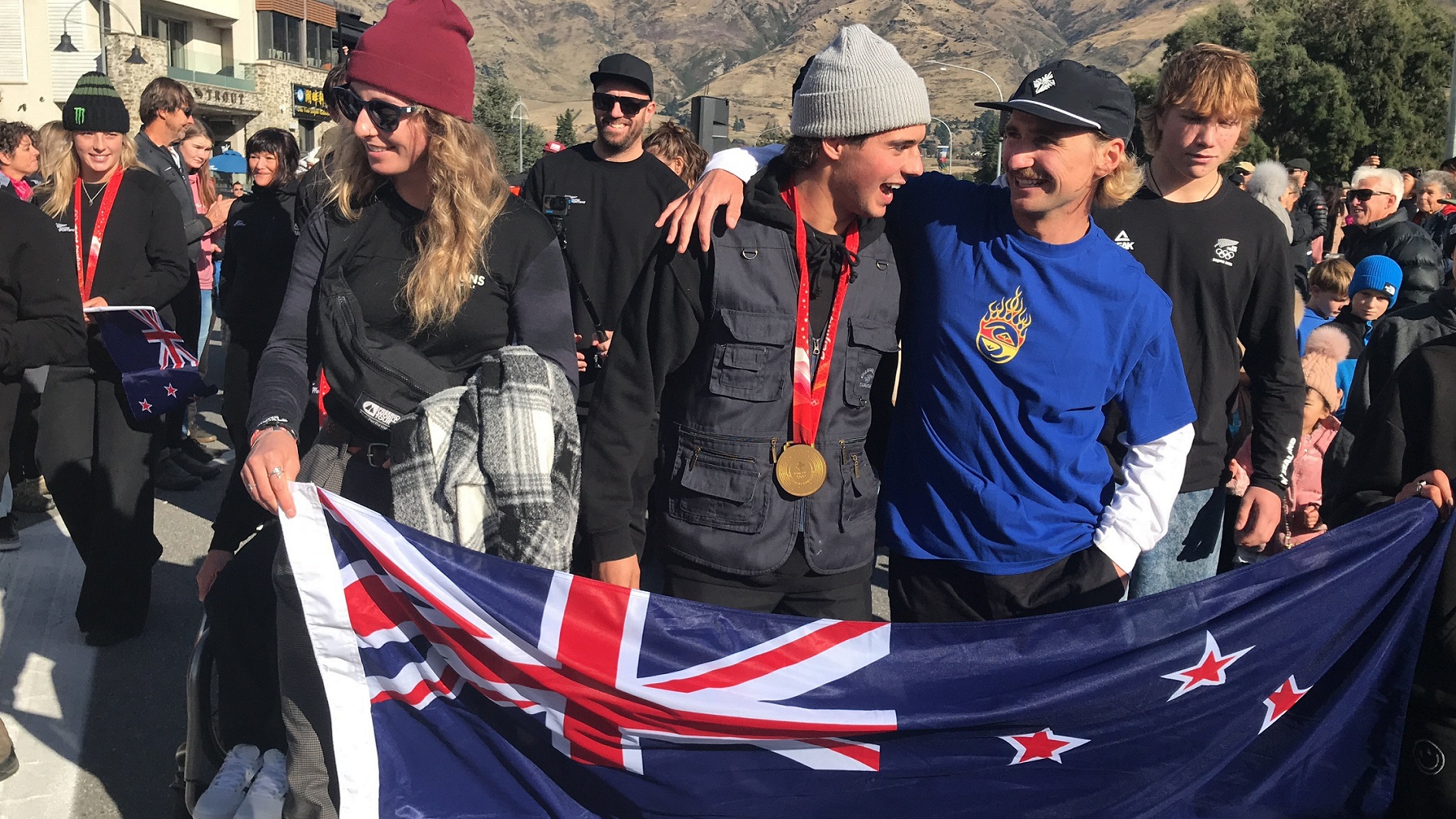 Freeski gold medallist Nico Porteous said he "sneaked back" into New Zealand in late March and had been lying low, recovering from surgery for a serious knee injury.
He will not be up to tricks in the halfpipe any time soon, as he has a long rehabilitation programme to complete.
"Rehab is going really well, I am two months post operation, the knee is feeling really well. I am back up and walking and back in the gym ... It will be a nine-month process, five days a week. It is what it is," he said.
Porteous was looking forward to reflecting "on a crazy time in my life".
It felt incredible to be standing in Wanaka with a gold medal around his neck and he was thrilled to see so many children at the parade, he said.
"It is awesome to see the future generation of skiers all hanging out and having a good time," he said.
Winter Paralympian Corey Peters won a gold and a silver medal in Beijing and was also happy to be home.
"It is so good to have everyone down to support us."
"It just goes to show what a great little community we live in, down here in Wanaka."
Peters was looking forward to getting back on the slopes in July.
"It has been quite warm, and we will have wait for the snow to come. As soon as it is here, late July maybe, we will be back on snow," Peters said.
The parade ended at the Lake Wanaka Centre where the athletes were swamped by children seeking autographs.
The event included a lolly scramble, a raffle for spot prizes and entertainment by local musicians.