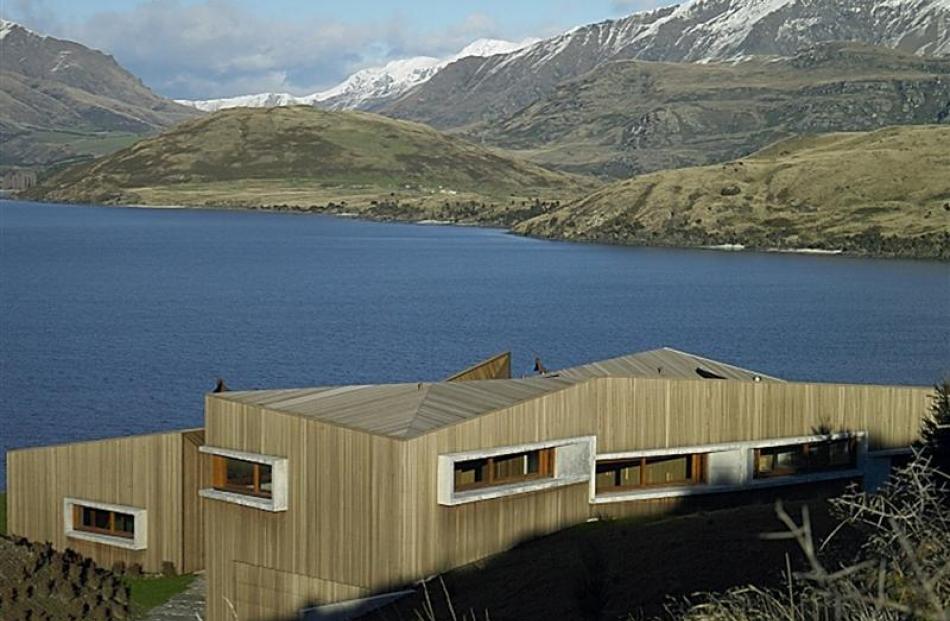 A multi-award-winning Central Otago house designed by two Auckland architects and owned by a pioneering skin specialist has featured on the BBC as one of the world's four most extraordinary mountain residences.
Te Kaitaka is outside Wanaka and was designed by Nicholas Stevens and Gary Lawson of Parnell's Stevens Lawson, and it featured on the BBC's The World's Most Extraordinary Homes.
The BBC show's hosts, award-winning architect Piers Taylor and actor and property enthusiast Caroline Quentin, also presented a Californian house which incorporated the wings of a Boeing 747, a Swiss Alps chalet and a Tucson mountain retreat in Arizona.
The hosts enthused over the Wanaka home, showing off its unusual shape.
"Designed to fit within strict planning regulations, the house was inspired by the surrounding trees and mountains and is camouflaged using wooden cedar cladding to cloak the building and with fireplaces cast in concrete," the BBC said of the home.
The New Zealand house is around half an hour outside Wanaka, sits above the lake, is beneath a main flight path and is an origami-style structure which took about three years to build.
Stevens said the clients were Mark and Suzanah Gray.
"It's very satisfying and exciting," Stevens said of the BBC programme.
"Te Kaitaka refers to the timber draping over the building like a cloak. The house was built in 2010 with timber which wraps around the whole house, so tonally it looks like tussock. The timber weathers off, developing a tussock colour, so that's why it has that camouflage sense. The geometry is also quite angular, like the mountains and rocks. It's a very, very special house, to do with how it relates to its environment. You might call it spirit of place."
Mark Gray is a pioneer of cosmetic dermatology who founded the Skin Institute national chain of specialist medical centres. His profile outlines his main areas of interest.
"Dr Gray's special interests include skin cancer, in particular complex skin cancer surgery involving reconstruction of the head and neck area utilising the Mohs micrographic method. Dr Gray has been practising Mohs surgery for over 10 years. Dr Gray is currently working in a multidisciplinary group of specialist surgeons from head and neck surgery, facial plastic surgery, ear, nose and throat surgery, plastic surgery and general surgery within the Skin Institute group of clinics," his professional profile says.
Lawson said he was delighted with the BBC programme on the Wanaka house.
"The fact that it was one of only four was pretty flattering, it's an amazing, amazing thing," Lawson said. "It's a concrete structure with concrete internal walls and a reasonably complex build in a very challenging environment."
The house was about 400sq m, had four bedrooms and was built into the hillside which made it cool in the summer and warm in the winter, he said. It was built by local firm Tony Quirk Builders, pre-cast concrete features were made in Ashburton and David Trubridge's Snowflake pendant lampshades were specified in the architectural plans, Lawson said.
Floors were of local schist and oak. Skylights feature in the hallway area, kitchen and living area.
The job was challenging, Lawson said, because the lake and main views were to the south, making it harder to capture warmth and solar energy from the north "so we had to orientate the house to take in the dramatic lake and mountain views".
The same BBC series featured a Piha house designed by husband and wife team Lance and Nicola Herbst at Herbst Architects.
Read more: Stunning Piha house impresses BBC
The Grays, of Central Otago and Auckland, featured in the Herald's Viva last year talking about their new Ao Skincare range. Read more here.
John Walsh, New Zealand Institute of Architects communications manager, said the BBC's coverage of New Zealand architect-designed houses was further evidence of the high international regard for this country's work.
"New Zealand projects, for example, have featured strongly in the annual World Architecture Festival and visiting architects are reliably impressed by the quality of architecture here, and envious of the sites available to local architects," Walsh said.
"New Zealand residential architecture, especially, is noted for the quality of its design and craftsmanship, and that recognition is starting to lead to international commissions for New Zealand's leading architecture practices," he said.