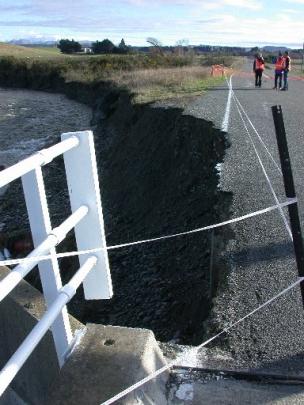 Only one water scheme remains closed in the Waitaki district after torrential rain and major flooding last week shut down most of the 23 schemes throughout the district.
The Dunback scheme is expected to be back in operation today, after three others in North Otago were switched on on Tuesday and yesterday.
During flooding, the Waitaki District Council switched off pumps to protect them from silt and shingle and to stop dirty and contaminated water entering the systems.
The pump of the Awamoko scheme was switched on at 3.30pm on Tuesday, and those of the Lower Waitaki at 9am and Herbert-Waianakarua at 2pm yesterday.
Dunback is still shut down because of silt and flooding.
To provide drinking water for consumers who might run out, the council put two 17,000 litre tankers at the Herbert Garage and Papakaio Community Centre.
Although there has been little demand, the tankers will remain in place until at least tomorrow while water on the schemes reaches the tanks of consumers on the extremities.
Dunback consumers can get drinking water from the Palmerston supply at the Whitestone Contracting yard.
The council's policy manager, Ben Hopkins, said some consumers were 30km to 40km from the pumps, so it could take one or two days for water to reach them.
"Boil water" notices for drinking water were in place for five schemes - the three most recently switched on, along with Dunrobin and Otekaieke - and would remain until tests, done daily, had three consecutive passes.
Consumers have also been warned to take precautions when washing food, bathing and cleaning teeth.
 Whitestone Contracting and council staff were again yesterday assessing damages to roads, bridges and culverts.
That is likely to take one to two weeks before the council has any indication of how much repairs will cost, Mr Hopkins said.
Late yesterday, 25 roads, including Dansey Pass, remained closed because of damage to culverts, road surfaces and bridge approaches.
At the peak of flooding, the council had more than 120 closure notices.
Initially, on most roads, temporary repairs were being carried out to get them open as quickly as possible while permanent repairs were being assessed.
The Earthquake Commission has two inspectors in the Waitaki district for the next five days to assess claims for damage to land.
Damage can be reported on the commission's website or through the Waitaki District Council.
The commission covers only damage to land, which can include subsidence, slips or scouring.
• Six roads in the Clutha district remained closed yesterday, as the cleanup from last weekend's floods continued.
Clutha District Council communications co-ordinator Jamie Shaw said three roads were still affected by flooding.
Two were closed while slips were cleared, and one street in Milton was partially closed due to an unauthorised trench appearing in the road.
Near Waihola, Titri Rd and Taieri Ferry Rd were closed due to slips, while Berwick Rd and Young Rd were closed due to flooding.
Greenfield Rd West, in the Chaslands, was also closed by flooding, and Johnson St, Milton, at the corner of Cowper St, was closed due to the unauthorised trench.
Temporary access to Bull Creek, which was cut off, stranding 10 residents, when a culvert was washed out on Saturday, was opened to light vehicles yesterday.