New Zealand shot-putter Tom Walsh was given a fright before he qualified for his final at the Tokyo Olympics.
Walsh was red-flagged in all three throws of qualification before an appeal enabled him to proceed into Thursday's final.
The Rio bronze medalist and former World Champion had some issues with one judge in particular at the main stadium who initially called all three of his throws as fouls.
That meant he'd missed the cut for the final, however Walsh challenged the officials decision and after a lenthgy review by officials his throw of 21.49 metres was deemed legal which meant he finished top of his group.
His first throw was over the auto qualifying mark, but given a red flag for a no throw. On his second throw his foot appeared to clip a ground microphone near the top of the circle, and again he was given a red flag. But following an appeal his throw was reinstated, 20.38m putting him in 8th position going into the third and final qualifying round.
Walsh rallied and delivered, his third effort travelling well past the auto qualifying mark, but again the red flag was raised. It was an anxious wait while the throw was reviewed, with uncertainty around which way the decision would go. After he had packed up and begun to leave the stadium with the rest of the field, the no throw was over-turned and his third throw of 21.49m was reinstated, with Tom ending up top qualifier in group A.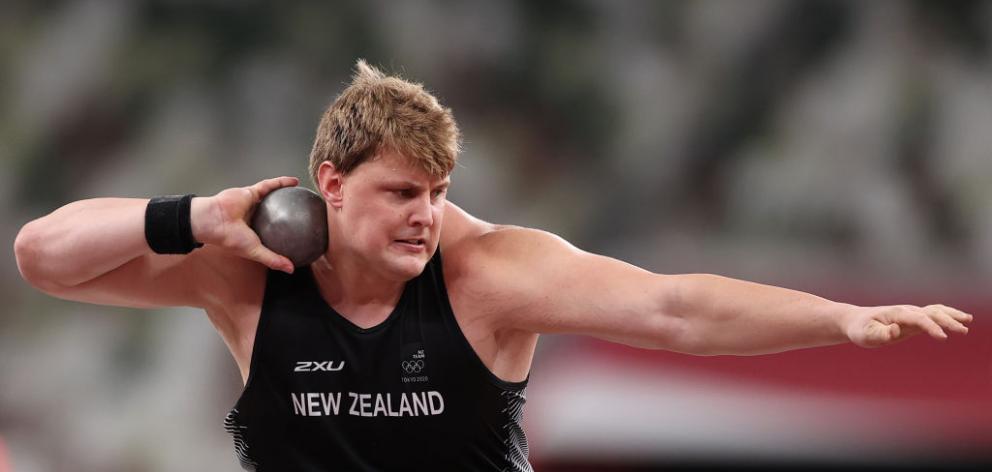 He says the whole process was nerve-wracking for everyone involved: "It definitely took a few years off my life, but to be completely honest I don't know where I was getting called for a foul on any of the throws. And obviously two of them got overturned, so look, I just go through the same processes and they work obviously because I got it done. When he held up that red flag on the last throw, I was like I've got no idea buddy where you're looking, clearly it was overturned and it was a good throw."
Walsh said it felt like a long and nervous wait for the result, and frustrating to not be able to see any footage on the big screens in the stadium. "It's going to take a while to come down from for sure. The idea tonight was to come here and throw it in the first round, and walk out the back of the circle and pack your bags, which I did in the first round but I got called for a foul. Then had a second attempt which was a really horrible throw, and then the third attempt was actually a really nice throw and exactly what I thought I needed."
"We're lucky now where it's the 21st century and we can go back and look at video and get it changed like that, and I'm very grateful for that."
After the drama of Tom Walsh's qualification in group A, Jacko Gill's qualification was more straightforward, although he was unable to meet the auto qualifying standard so it took a strong final throw to secure his place in the top 12 and the final.
The Auckland-based thrower, who was ninth at the Rio 2016 Olympic Games, opened with 20.65m followed by 20.52m in the second round. It looked like the final might be slipping away, as his fellow competitors delivered strong results moving Jacko down the field, before his third round throw of 20.96m secured him 9th place overall, with 12 progressing to the final on Thursday.
Jacko said it was a stressful wait for his final position to be confirmed: "There wasn't a graphic, so I didn't know if I was good enough or if I was through or not. Obviously would have liked to hit the auto qualification, so a little disappointed in myself but stoked to get through."
Defending Olympic champion and world record holder Ryan Crouser of the US had the best throw in qualifying of 22.05 metres.
Julia Ratcliffe finished 9th in her first Olympic hammer throw final.
While happy over all with her result, the Waikato thrower said it was disappointing to not make the top eight: "I was still confident, still in really good shape, but some days it doesn't go as far as other days. I was in pb shape and I didn't quite get there, so I guess when those are your expectations you kind of feel a bit gutted about it. Still just processing I think, would have really loved to be out there for those last three throws, but that's alright. Got fire for the next one."
After a strong Olympic campaign, Julia said that reaching the final was still something to be proud of: "Things have really come together, and making that final was a really big high for us, we knew I could do it but that's not where I was ranked going in, so definitely I've always managed to place above my rankings in international comps and this is no different. Something to be proud of. "
"I'm just really grateful that the Games has gone ahead full stop. At the end of the day, you always want a bit more than you get sometimes, but all considering we've had a pretty good run."