The demand for good southern-bred stayers is as high as ever, according to White Robe Lodge studmaster Wayne Stewart.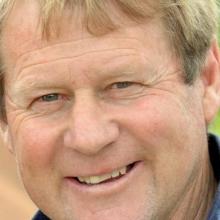 The phone has been ringing hot at the stud recently with Australian buyers looking to get their hands on distance horses.
A good amount of that demand came off the back of Raise The Flag's recent results across the Tasman, Stewart said.
"He is getting quite a bit of interest now ... and a lot of inquiries about buying his progeny. I have sold a few to Australia in the last month.''
Australia's record-breaking trainer Darren Weir was a fan of the sire's stock and that was lifting the sire's profile there, Stewart said.
"You don't get a better advert than him winning with them.
"He is such a high-profile trainer now and John Foote, who buys solely for him, has been buying the Raise The Flags since day one.''
Weir has scored good success with 3yr-old fillies Parthesia and Unfurl this season and produced emerging stayer Yogi to win at Sandown last week.
Southerners have the opportunity to cash in on the success of the sire, who stands for $4000, as the demand for Raise The Flag's staying progeny continues to grow, which is helped by the lack of staying horses being bred in Australia.
"Stayers are easy to sell to Australia; that is all they want.
"That has been where the market has been in New Zealand for a long time.''
Raise The Flag could help bring Victorian jockey and trainer Michelle Payne back into the Melbourne Cup limelight.
Payne won the 2015 cup aboard Prince Of Penzance - a New Zealand-bred by Pentire - from Weir's stable.
The jockey, who is riding at Royal Ascot this week, has turned her hand to training this season.
Before Payne takes on the United Kingdom's best jockeys, a Raise The Flag half-sister to Melbourne Cup placegetter Who Shot Thebarman arrived at her stable last week.
The 2yr-old is from Raise The Flag's 2014 crop, which Stewart thinks can do big things.
"His biggest book of mares and the best quality book of mares are 2yr-olds now, rising 3.''
It was too soon to say how the upcoming season for Raise The Flag and fellow White Robe Lodge sires Gallant Guru and Ghibellines would pan out, but there were good early signs, Stewart said.
"There is definitely interest in Gallant Guru and Raise The Flag - there have been a lot of interest in him and bookings.''
Gallant Guru sits 11th on the national sires' premiership this season, but last season served a small book of 24 mares.
Stewart was hopeful this year the stallion would turn that around on the back of his progeny's good success on the track.
"For what you're paying for him and the return on the money and what you are racing for in the South Island, you can't get any better value.''
Stewart was also hopeful Raise The Flag can "get back on track'' this season after also serving a small book of 12 mares last season.
Ghibellines served 64 mares last year and will return for his third season at stud this year.
- By Jonny Turner