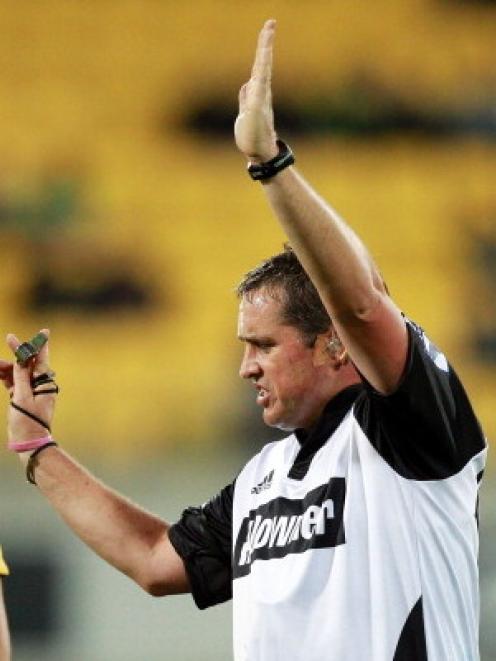 With the 2013 Super 15 season fast approaching it's hard not to get excited at the prospect of another year of top-class rugby.
If the 2012 season was anything to go by, it will be another year of entertaining rugby, which can't be anything but good.
But amongst all this, there were just a few dampers on last year's competition. To try to clean up these issues, here are five things ODT rugby contributor Jeff Cheshire doesn't want to see in 2013.
Inconsistencies policing breakdown
This one is infuriating for players, coaches and fans alike. The breakdown is a complex area of the game as it is, but the way it is policed at times makes it near impossible to know what is legal in the eyes of the referee.
Of course there are always going to be things missed, that's inevitable. But what made the breakdown so frustrating last year was the number of obvious offences missed, particularly when you look at the number of obscure offences penalised. It became ridiculous how often this was happening, and it decided games.
Imagine how the players must feel. Not knowing when they have rights and when they don't, effectively having to take a gamble on when they contest for the ball. Coaches too must find it near impossible to work a game plan around, with interpretations changing on a weekly, sometimes more frequent, basis.
For everyone else, it makes for a hard watch. It can kill the fun of supporting your team if you know the result is going to come down to a few lucky calls here and there.
Scrum resets
Admittedly this one has improved over the past few months with the inception of the new scrum calls. But these calls have yet to be used in Super Rugby and until they have proven themselves over time, the problem will remain by no means fixed.
How often did we see a scrum set three, four even five times last year? There were times when five minutes would run off the clock without any action happening. Ridiculous and rather boring unless you're a front row tragic whose thrills come from seeing the men in the low numbers do battle at scrum time.
There's been much debate on how to fix the problem. The change in calls was possibly the best suggestion and may be the answer, depending on how fast the referee delivers them. Others suggested stopping the clock, which solves the problem of game time being chewed up, but does little to make for a more exciting and fast-paced game.
My suggestion is to give the front rowers old-style jerseys to wear - the ones that were worn by players up until the last ten years or so.
These new jerseys were developed with the intention of making them harder to grab for defenders, but when you have two 900kg packs smashing into each other, the props need something that is easy to bind on to in a split-second, not something that is hard to get hold of.
TMO shockers
This became a theme during the 2012 season. The whole idea of being able to go upstairs and look at the television footage is to make sure the right decision is made, even if it takes a few minutes.
Yet last year they still managed to get it wrong enough times to make it concerning.
Sure, it's easy to make the decision when you're watching the game at home or in the crowd, with nothing riding on whether you were wrong or right.
But really, these guys are professionals; they are paid to make the right decisions. With the benefit of super-slow motion replays and multiple angles, the right decision should be made 99 times out of 100.
Off-field controversies
In some sports what is happening off the field seems to be more important than what is happening on it. That's all well and good, but not in rugby. Well not to the same extent anyway.
Last year we saw all the drama surrounding the career options of Sonny Bill Williams, and what was going on behind the scenes at the Blues camp. And this year we have already been subjected to the latest incident in the Zac Guildford saga.
It's all interesting, in moderation, but when it starts interfering with the rugby, it gets to be too much.
For 2013 let's hope the rugby remains the primary focus.
A team ravaged by injuries
Coming from a Highlanders perspective, this one rings so true. The past two seasons have been somewhat ruined by seeing many of the best players sidelined mid-season after such promising starts to the season.
Every team has injuries, but there is no doubt the Highlanders have been more unlucky than most, at times being down to their third- or fourth-string players in certain positions. Having lost Tamati Ellison already, 2013 hasn't exactly gotten off to the best start, particularly with a handful of others still on the comeback.
But if there is anything we would like to see this year, it would be a fully fit Highlanders team playing in the crunch stages of the competition.